Practicing improper/unhealthy postures throughout the day can severely fatigue the mind and body. Children's postural health is vital to their overall health and energy levels to perform tasks, school work, and play. An unhealthy posture causes the body to lose its ability to dissipate forces evenly and correctly. Symptoms like soreness, pain, tightness, and irritability can begin to present, which is the body's way of letting the individual know something is off. When the body is in proper alignment, the spine disperses body weight correctly and efficiently. Chiropractic adjustments can effectively counter the unhealthy posture effects, and simple postural exercises can strengthen the body, increasing healthy posture habits.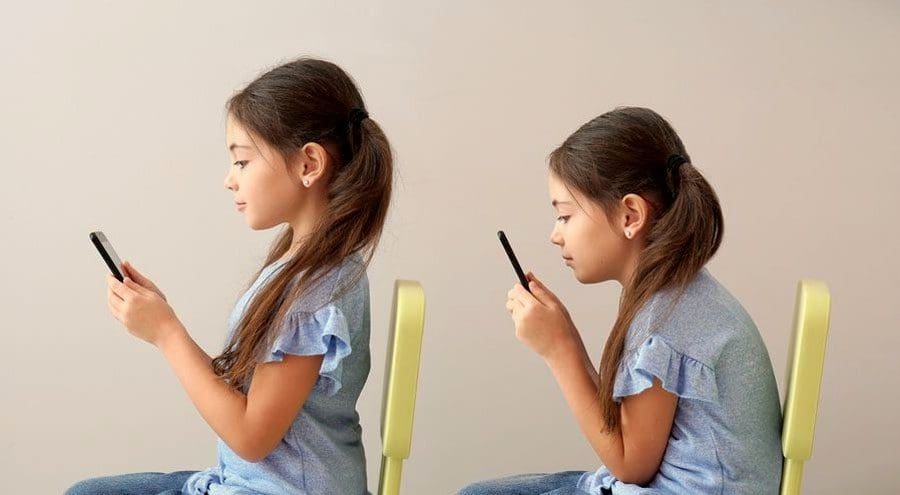 Children's Posture Health
Healthy posture is more than simply sitting and standing up straight. It is how the body is positioned, meaning the head, spine, and shoulders, and how it moves unconsciously like a walking gait. An uneven gait or awkward body position can indicate a problem and cause long-term consequences to a child's health.
Challenges
Kids and children are constantly hunched, slumped, and slouched over device screens. This constant awkward positioning adds weight to the spine, increasing the pressure, which can cause issues ranging from headaches, mild neck pain, low back pain, and sciatica. Severe health effects from poor posture include:
Shoulder problems.
Chronic pain.
Nerve damage.
Difficulty breathing from prolonged hunching-over.
Spinal joint degeneration.
Vertebral compression fractures.
Poor alignment of the muscles begins to restrict postural muscles from relaxing correctly, making the muscles stay stretched or slightly flexed, causing strain and pain. As a child's body grows, practicing unhealthy postures can drive continued awkward positioning, abnormal spine growth, and an increased risk for arthritis later in life.
Chiropractic Adjustments
A chiropractor will check for any imbalances, like a hunched back, one shoulder higher than the other, or a pelvic tilt/shift. Through a series of adjustments, chiropractic releases the muscles, relieves pressure on ligaments, allows the postural muscles to relax and realign to their proper position, prevents further muscle overuse, strain, abnormal joint wear, and helps reduce fatigue by conserving/utilizing energy as the muscles are functioning correctly and efficiently.
Exercises
Simple postural exercises can help maintain children's postural health.
Standing, spread the legs into an A shape shoulder-width apart.
Bend and stretch to one side.
Raise the opposite arm of the side, bending straight above the head, so the bicep touches the ear.
Raise the arms above the head.
Elbows bent at 90 degrees.
Make small circles forward and backward ten times.
Lay flat on the floor.
Place hands next to the chest so that they are underneath the shoulders.
Gently press the chest upward.
Keeping the legs on the ground.
Look straight ahead.
They only take a few minutes, but the objective is consistency. Doing the poses for one week won't immediately change unhealthy posture habits. It is developing consistent healthy postural habits that generate improvement. They should be done at least three times weekly to build strength and endurance.
---
Kids and Chiropractic
---
References
Achar, Suraj, and Jarrod Yamanaka. "Back Pain in Children and Adolescents." American family physician vol. 102,1 (2020): 19-28.
Baroni, Marina Pegoraro, et al. "Factors associated with scoliosis in schoolchildren: a cross-sectional population-based study." Journal of epidemiology vol. 25,3 (2015): 212-20. doi:10.2188/jea.JE20140061
da Rosa, Bruna Nichele et al. "Back Pain and Body Posture Evaluation Instrument for Children and Adolescents (BackPEI-CA): Expansion, Content Validation, and Reliability." International journal of environmental research and public health vol. 19,3 1398. 27 Jan. 2022, doi:10.3390/ijerph19031398
King, H A. "Back pain in children." Pediatric clinics of North America vol. 31,5 (1984): 1083-95. doi:10.1016/s0031-3955(16)34685-5