A satisfying salad is a great way to get more fruits and vegetables high in vitamins, minerals, and fiber. A salad using the right ingredients can be a filling meal. With the summer heat kicking in, making a quick, satisfying salad using your favorite ingredients can help cool off, rehydrate, and refuel the body.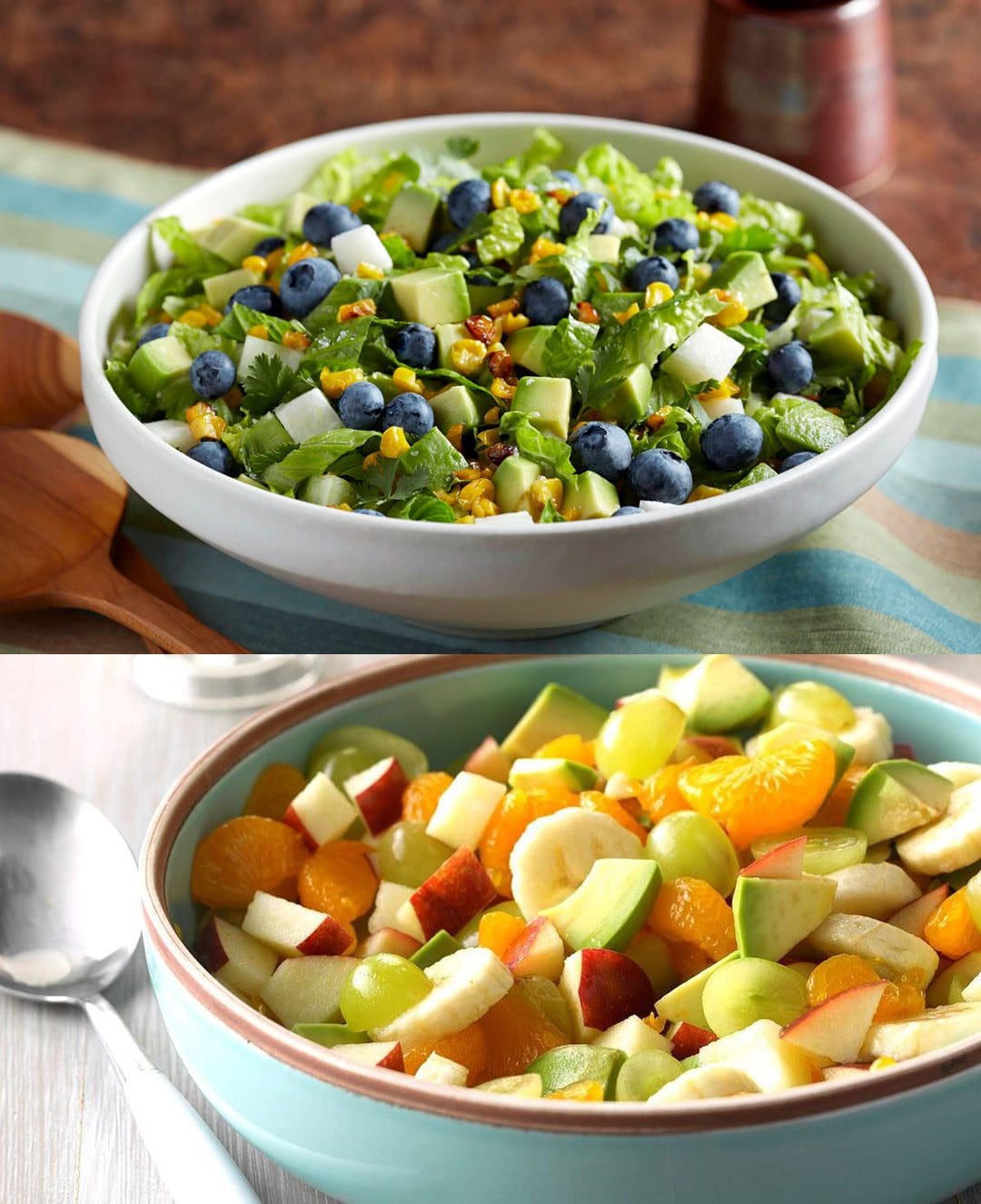 Making A Satisfying Salad
Leafy Greens
Start with leafy greens.
They're low in calories and a healthy source of fiber.
Different varieties include iceberg lettuce, leaf lettuce, spinach, escarole, romaine, kale, and butter lettuce.
The darker greens offer more nutrients.
Vegetables
Carrots, peppers, green beans, eggplant, Brussels sprouts, broccoli, cauliflower, cabbage, zucchini, tomatoes, cucumbers, onions, or scallions.
Raw diced or cooked vegetables are a good addition.
Leftover cooked vegetables will work.
Brightly colored vegetables have flavonoids rich in antioxidants, fiber, vitamins, and minerals.
Choose all the colors and add two or three half-cup servings.
Grains – Starch
Add whole grains or starchy vegetables.
A serving of cooked:
Whole grains like brown rice, barley, or quinoa.
Starchy vegetables like roasted sweet potatoes or cooked butternut squash.
These provide fiber, complex carbohydrates, vitamins, and minerals.
Fruit
Fruits or berries, blueberries, raspberries, blackberries, pomegranate seeds, apple slices, oranges, dates, and raisins can add vitamins, fiber, and antioxidants.
One-half cup of apple slices has 30 calories.
One-half cup of berries has about 40 calories.
Protein
A hard-boiled egg is an excellent source of protein.
A serving of lean beef, cooked shrimp, tuna, chicken breast, cheese strips, beans or legumes, hummus, tofu, or cottage cheese.
Be mindful of portion size.
A quarter cup of chopped chicken meat or one egg will add 75 calories.
Half a can of tuna adds about 80 calories.
Depending if it is low fat, two ounces of cubed or shredded mozzarella or cheddar cheese can add 200 calories.
Nuts or Seeds
Almonds, cashews, walnuts, pecans, sunflower, pumpkin, or chia seeds are great for added crunch.
All nuts add protein and heart-healthy polyunsaturated and monounsaturated fatty acids.
One-eighth cup of nuts adds around 90 calories.
Walnuts contain omega-3 fatty acids.
Salad Dressing
Add salad dressing.
One tablespoon of regular commercial salad dressing adds 50 to 80 calories.
Low-fat and reduced-calorie dressings are available.
Use freshly squeezed lemon or lime juice.
Make a dressing with avocado, walnut, or extra virgin olive oil.
Low-Carbohydrate Taco Salad
This is an easy recipe. The meat can be prepared ahead or be leftovers from another meal.
Ingredients
One pound lean ground beef – 85% to 89% lean.
One tablespoon of chili powder.
Salt and pepper, to taste.
Green onions, chopped with white and green parts separated.
One head of lettuce, chopped.
One medium tomato, chopped.
One avocado, diced.
Optional – one 4-ounce can of sliced olives.
1 1/2 cups of grated fat-free cheddar, Monterey Jack cheese, or a combination.
1/2 cup fat-free Greek or plain yogurt.
1/2 cup salsa.
Preparation
Cook beef in a skillet with chili powder, the white part of the onions, and salt and pepper.
Once cooked, cover the pan.
In a large salad bowl, mix the green onion, lettuce, tomato, avocado, and olives.
Add the meat and cheese and gently toss together.
Top with dollops of low-fat or reduced-calorie sour cream, yogurt, or salsa.
Try other meats like ground turkey, chicken, or pork.
For a vegetarian option, replace the ground meat with beans or textured vegetable protein.
Adding beans will increase fiber, protein, and total carbohydrates.
---
Body Signals Decoded
---
References
Chambers L, McCrickerd K, Yeomans MR. Optimizing foods for satiety. Trends in Food Science & Technology. 2015;41(2):149-160. doi:10.1016/j.tifs.2014.10.007
Cox, B D et al. "Seasonal consumption of salad vegetables and fresh fruit in relation to the development of cardiovascular disease and cancer." Public health nutrition vol. 3,1 (2000): 19-29. doi:10.1017/s1368980000000045
Dreher ML, Davenport AJ. Hass avocado composition and potential health effects. Crit Rev Food Sci Nutr. 2013;53(7):738-750. doi:10.1080/10408398.2011.556759
Roe, Liane S et al. "Salad and satiety. The effect of timing of salad consumption on meal energy intake." Appetite vol. 58,1 (2012): 242-8. doi:10.1016/j.appet.2011.10.003
Sebastian, Rhonda S., et al. "Salad Consumption in the U.S. What We Eat in America, NHANES 2011-2014." FSRG Dietary Data Briefs, United States Department of Agriculture (USDA), February 2018.
Yen, P K. "Nutrition: salad sense." Geriatric nursing (New York, N.Y.) vol. 6,4 (1985): 227-8. doi:10.1016/s0197-4572(85)80093-8