Spinal stenosis is when space somewhere along or within the spine begins to narrow, closing off the ability of normal/comfortable movement and nerve circulation. It can affect different areas, including the cervical/neck, lumbar/low back, and, less commonly, the thoracic/upper or mid-back regions causing tingling, numbness, cramping, pain, muscle weakness, or a combination in the back, leg/s, thighs, and buttocks. There can be various factors causing the stenosis; correct diagnosing is the first step, and where a spinal stenosis MRI comes in.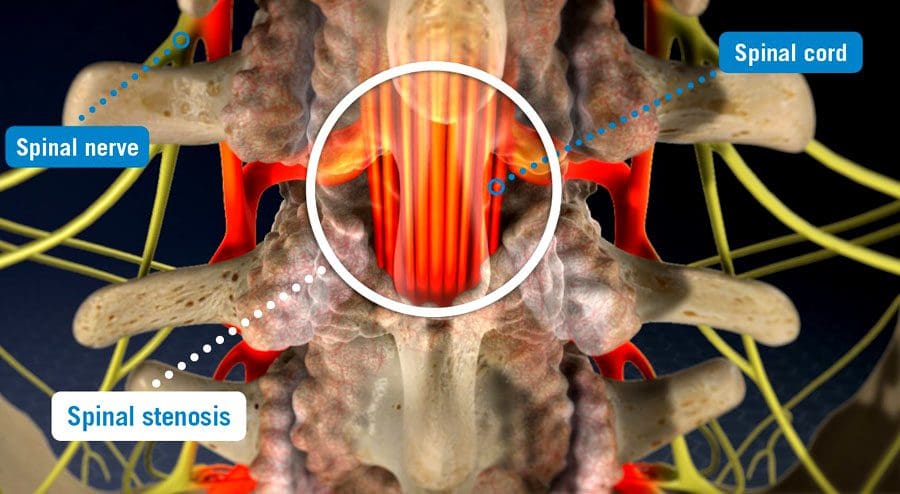 Spinal Stenosis MRI
Stenosis can be challenging to diagnose as it is more of a symptom/complication than a condition, often caused by herniated discs, bone spurs, a congenital condition, post-surgery, or after an infection. Magnetic resonance imaging/MRI is a common test used in diagnosis.
Diagnosis
A healthcare professional, like a chiropractor, physical therapist, spine specialist, or physician, will begin with understanding symptoms and medical history.
A physical exam will be conducted to learn more about the location, duration, positions, or activities that decrease or worsen the symptoms.
Additional tests include muscle strength, gain analysis, and balance testing to help better understand where the pain is coming from.
To confirm a diagnosis, imaging will be required to see what is going on.
An MRI uses computer-generated imaging to produce images that show bone and soft tissues, like muscles, nerves, and tendons, and if they are compressed or irritated.
A healthcare professional and MRI technician will go over the safety requirements before the imaging.
Because the machine uses powerful magnets, there can be no metal on or in the body, like implanted prostheses or devices that include:
Pacemakers
A different imaging test may be used if an individual cannot have an MRI like a CT scan.
An MRI can range from several minutes to an hour or longer, depending on how many positions are necessary to isolate the injured area and get a clear image. The test is painless, but sometimes individuals are asked to maintain a specific position that could be uncomfortable. The technician/s will ask if there is discomfort and offer any help to make the experience as easy as possible.
Treatment
Not all cases of stenosis cause symptoms, but there are treatment options that a healthcare professional can recommend.
Conservative care is the first recommendation that includes chiropractic, decompression, traction, and physical therapy.
Treatment increases muscle strength, improves range of motion, improves posture and balance, decreases discomfort symptoms, and incorporates strategies to prevent and manage symptoms.
Prescription medications could be part of a larger treatment plan.
Surgery could become an option in more severe cases where conservative care is not working.
---
Spinal Stenosis
---
References
Database of Abstracts of Reviews of Effects (DARE): Quality-assessed Reviews [Internet]. York (UK): Centre for Reviews and Dissemination (UK); 1995-. Diagnosis of lumbar spinal stenosis: an updated systematic review of the accuracy of diagnostic tests. 2013. Available from: www.ncbi.nlm.nih.gov/books/NBK142906/
Ghadimi M, Sapra A. Magnetic Resonance Imaging Contraindications. [Updated 2022 May 8]. In: StatPearls [Internet]. Treasure Island (FL): StatPearls Publishing; 2022 Jan-. Available from: www.ncbi.nlm.nih.gov/books/NBK551669/
Gofur EM, Singh P. Anatomy, Back, Vertebral Canal Blood Supply. [Updated 2021 Jul 26]. In: StatPearls [Internet]. Treasure Island (FL): StatPearls Publishing; 2022 Jan-. Available from: www.ncbi.nlm.nih.gov/books/NBK541083/
Lurie, Jon, and Christy Tomkins-Lane. "Management of lumbar spinal stenosis." BMJ (Clinical research ed.) vol. 352 h6234. 4 Jan. 2016, doi:10.1136/bmj.h6234
Stuber, Kent, et al. "Chiropractic treatment of lumbar spinal stenosis: a review of the literature." Journal of chiropractic medicine vol. 8,2 (2009): 77-85. doi:10.1016/j.jcm.2009.02.001