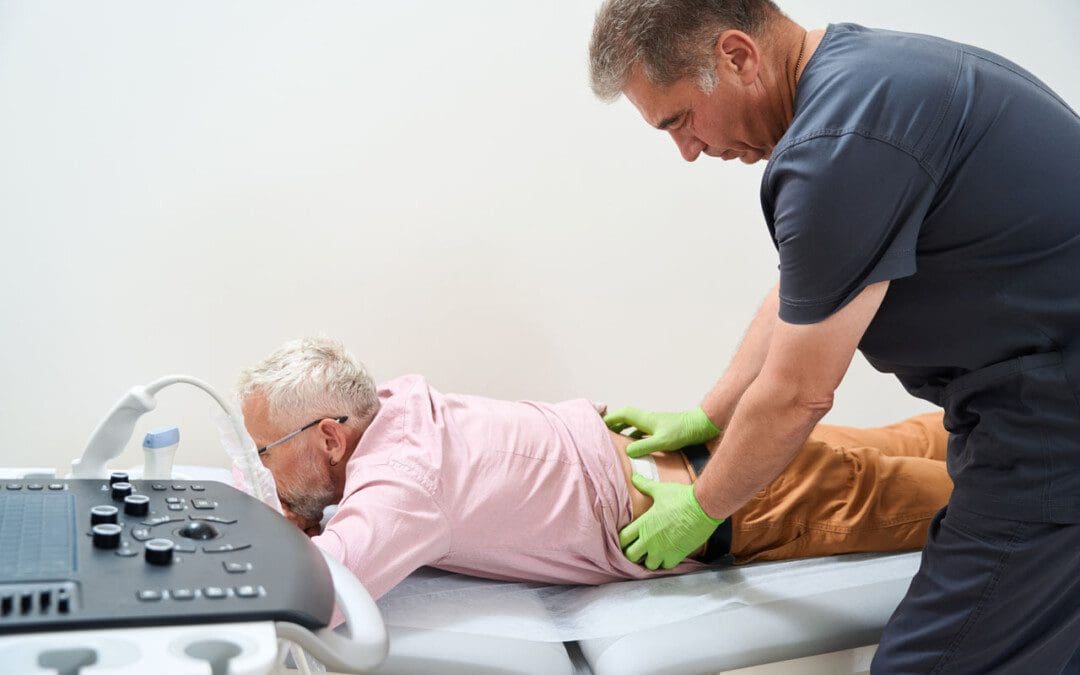 For individuals dealing with chronic sciatica, when pain and other symptoms significantly impact daily activities and the ability to walk, can a musculoskeletal healthcare provider help relieve and manage symptoms through a multidisciplinary treatment plan?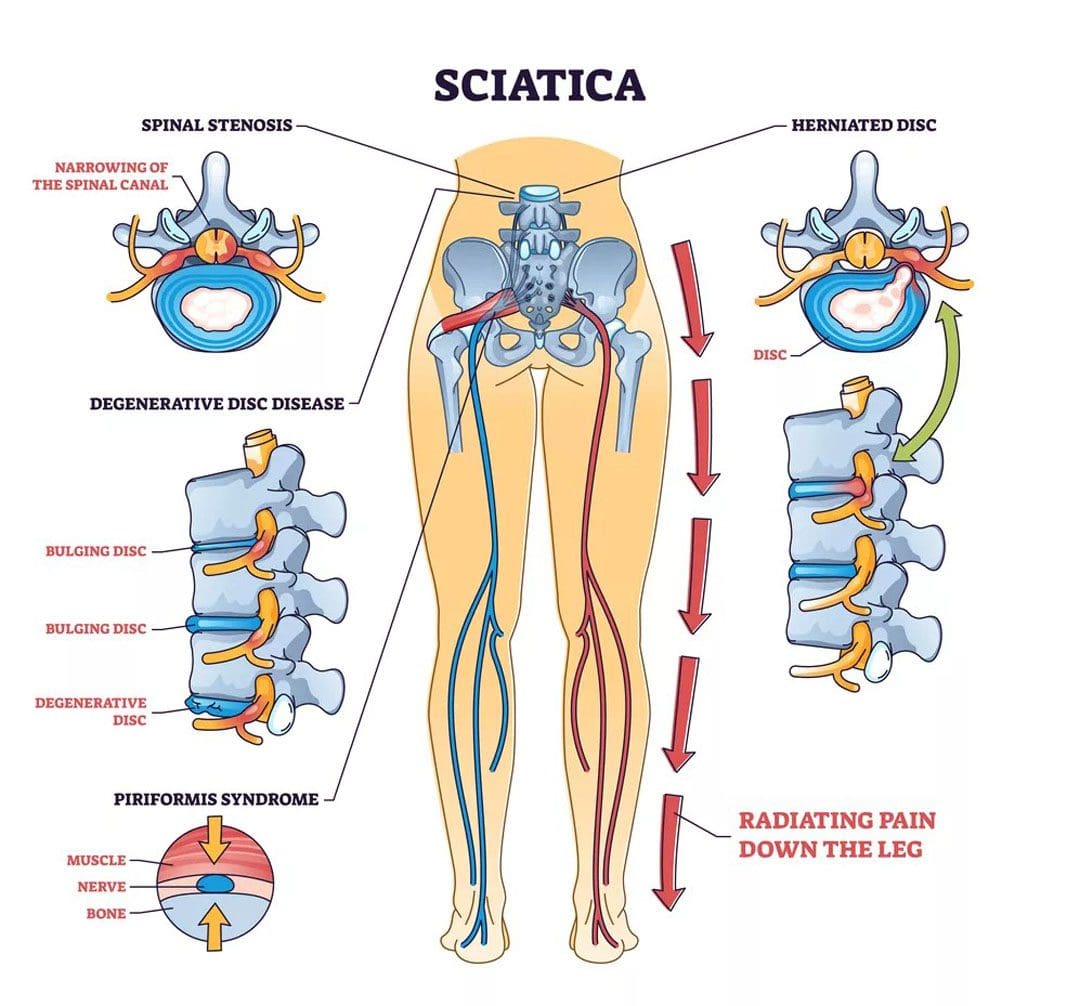 Chronic Sciatica
Sciatica is a common condition that results from compression of the sciatic nerve in the lower back or leg. Chronic sciatica occurs when symptoms last for 12 months or longer.
Advanced Sciatica Symptoms
Advanced or chronic sciatica usually produces pain that radiates or travels down the back of the leg. Long-term sciatic nerve compression can result in:
Leg pain
Numbness
Tingling
Electrical or burning sensations
Weakness
Weakness
Instability of the legs, which can impact the ability to walk.
Severe nerve compression can progress to leg paralysis if the nerve is significantly damaged from chronic compression. (Antonio L Aguilar-Shea, et al., 2022)
Sciatica can progress to nerve damage of the smaller nerves and travel into the legs and feet. Nerve damage/neuropathy can result in pain, tingling, and loss of sensation. (Jacob Wycher Bosma, et al., 2014)
Disabling Sciatica Treatment Options
When sciatica becomes disabling, affecting an individual's ability to walk, more involved treatment is needed to bring relief. Many cases of chronic and disabling sciatica are caused by problems with the lumbar spine. Compression of the nerve roots that form the sciatic nerve can occur from bulging or herniated discs or spinal stenosis. If symptoms of sciatica persist beyond 12 months with little or no relief from physical therapy, non-surgical mechanical decompression, stretches and exercises, or pain management techniques, surgical procedures may be needed. (Lucy Dove, et al., 2023)
Lumbar decompression surgery encompasses several procedures to create more space in the lumbar spine and relieve nerve compression. Lumbar decompression surgery can include: (Mayfield Clinic. 2021)
Discectomy
This procedure removes a portion of a damaged disc between vertebrae to alleviate root compression from a bulging or herniated disc.
Laminectomy
This procedure removes the lamina, a portion of the vertebrae causing nerve compression, especially if there is a bone spur due to arthritic and degenerative changes in the spine.
Foraminotomy
This procedure widens the foramina, the openings in the vertebrae where the nerve roots exit to relieve compression.
Spinal Fusion
This procedure takes two or more vertebrae fusing them together with metal rods and screws for stabilization.
The procedure can be performed if:
An entire disc is removed.
Multiple laminectomies were performed.
One vertebra has slipped forward over another.
Daily Relief Management for Advanced Sciatica
Achieving relief from advanced sciatica symptoms at home can include regularly practicing methods like taking a hot bath or shower massage, and applying a heating pad to the lower back or glutes to relax tight muscles to help release the tightness surrounding the sciatic nerve.
Corrective or therapeutic exercises like sciatic nerve glides can help reduce tension along the nerve while low-back exercises that move the spine into forward or backward bending can reduce compression. (Witold Golonka, et al., 2021)
Medications like nonsteroidal anti-inflammatory drugs/NSAIDs, muscle relaxants, or nerve-pain medications may be recommended. (Antonio L Aguilar-Shea, et al., 2022)
Advanced sciatica may not be as responsive to conservative treatment methods, as the injury has set in and the nerve and surrounding tissues have become significantly restricted.
Sciatica symptoms lasting longer than 12 months require more involved treatment like injections or surgery to address symptoms effectively. (Antonio L Aguilar-Shea, et al., 2022)
Healing Chronic Sciatica
If the underlying cause can be effectively treated then chronic sciatica can be healed. Chronic sciatica often results from spinal conditions like herniated discs or lumbar spinal stenosis. These conditions narrow the space around the nerve roots that exit from the spinal cord and merge to form the sciatica nerve. Surgery is performed to open the space in the spine. (Mayfield Clinic. 2021) Sometimes sciatica is brought on by less common causes like a tumor or a spinal infection. In these cases, symptoms will not resolve until the underlying cause is addressed. Tumors may need to be surgically removed while infections require aggressive antibiotics to prevent spreading to other regions of the body. (Hospital for Special Surgery. 2023)
Pain Specialist Treatment Plan Development
Ongoing pain, numbness, tingling, and weakness are all symptoms that should be addressed with a healthcare provider. A pain specialist can help create a treatment plan that involves: (Hospital for Special Surgery. 2023)
Physical therapy
Therapeutic massage
Chiropractic decompression and spinal adjustments
Targeted stretches and exercises
Referrals to specialized healthcare providers
Injections
Medications
---
Sciatica Causes and Treatments
---
References
Aguilar-Shea, A. L., Gallardo-Mayo, C., Sanz-González, R., & Paredes, I. (2022). Sciatica. Management for family physicians. Journal of family medicine and primary care, 11(8), 4174–4179. doi.org/10.4103/jfmpc.jfmpc_1061_21
Bosma, J. W., Wijntjes, J., Hilgevoord, T. A., & Veenstra, J. (2014). Severe isolated sciatic neuropathy due to a modified lotus position. World journal of clinical cases, 2(2), 39–41. doi.org/10.12998/wjcc.v2.i2.39
Dove, L., Jones, G., Kelsey, L. A., Cairns, M. C., & Schmid, A. B. (2023). How effective are physiotherapy interventions in treating people with sciatica? A systematic review and meta-analysis. European spine journal : official publication of the European Spine Society, the European Spinal Deformity Society, and the European Section of the Cervical Spine Research Society, 32(2), 517–533. doi.org/10.1007/s00586-022-07356-y
Mayfield Clinic. ( 2021). Spinal decompression laminectomy & foraminotomy.
Golonka, W., Raschka, C., Harandi, V. M., Domokos, B., Alfredson, H., Alfen, F. M., & Spang, C. (2021). Isolated Lumbar Extension Resistance Exercise in Limited Range of Motion for Patients with Lumbar Radiculopathy and Disk Herniation-Clinical Outcome and Influencing Factors. Journal of clinical medicine, 10(11), 2430. doi.org/10.3390/jcm10112430
Hospital for Special Surgery. (2023). Sciatica.
Hospital for Special Surgery. (2023). Pain management.