Look how young children position their backs. There is a natural S curve, and their movements are effortless. As the body ages, too much sitting, slouching, and inactivity can cause muscle fatigue and tension leading to posture issues. Rounded shoulders describe a resting position that has shifted the shoulders out of the body's natural alignment, which can worsen if left untreated. Chiropractic care can realign the shoulders, as well as the spine, and restore musculoskeletal health to optimum levels.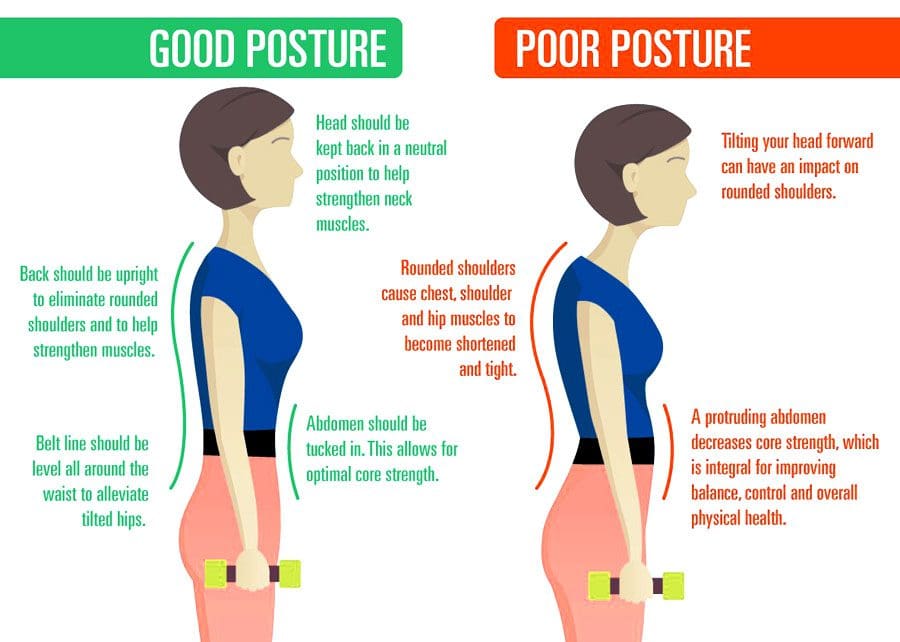 Rounded Shoulders
Rounded shoulders are an excessive thoracic kyphosis referring to an uneven forward rounding or curvature of the middle and upper back. Rounded shoulders shift out of proper alignment with the spine, causing posture-related problems like shoulder/neck/back discomfort, tightness, stiffness, and pain. Overall unhealthy posture contributes to the following:
The head constantly being in a forward or backward position
Headaches
Body aches and pains
Muscle fatigue
Chronic back soreness
Bent knees when standing or walking
Body movement dysfunction
Joint problems
Potbelly
Rounded shoulders
Body responses to rounded shoulders include:
Chronic musculoskeletal aches and pains
Breathing problems
Limited body function
Impaired mobility performance
Increased mental and musculoskeletal stress
Causes
Rounded shoulders are typically caused by unhealthy posture, but can also be caused by muscle imbalances from, for example, overfocusing on building chest strength but neglecting the core and upper back. Other causes include:
Standing and sitting for long periods
Stress
Lack of physical activity
Environmental factors
Too much exercise, sports, and physical activities
Musculoskeletal Imbalance
Postural imbalances anywhere in the body can cause rounded shoulders.
For example, when an individual tilts their head forward to look at their phone, the upper back has to round forward to hold the head. Constantly tilting can begin to generate an unhealthy muscle memory causing the neck and shoulder muscles to remain in a semi-flexed position that starts to become the norm.
Another example is when the arms are held out and in front for prolonged periods, like driving, typing, and cooking, the chest muscles get shortened. As time goes on, this causes the shoulder blades to move forward on the ribcage, making the upper back and shoulder area hunch awkwardly and unhealthily.
Stress
When the brain perceives a threat, the body physically prepares to take action through the fight or flight response. Common reactions include:
Jaw tensing
Tightening the abdominal muscles
Holding one's breath
Rounding the shoulders
Stressors can include:
Job worries
Money issues
Relationship problems
Family responsibilities
All can cause changes in the body that result in rounded shoulders.
Environmental Factors
Respiratory conditions like asthma, COPD, and allergies can affect the body's breathing and the ability of the diaphragm to contract and relax correctly.
Ribcage restrictions caused by chronic breathing problems can result in the thoracic/middle back tightening up, causing excessive shoulder rounding.
Exercise and Physical Activities
Exercise and physical activities can contribute to rounded shoulders because of the long periods of spinal flexion. These can include:
Bike riding, martial arts, and swimming.
Knitting requires the arms to be out in front.
Gardening requires kneeling and being hunched over.
Chiropractic Treatment
Chiropractic adjustments, therapeutic massage, and decompression therapy can unlock tight shoulder and chest muscles. A chiropractor uses gentle targeted adjustments to relieve pain, restore function, and retrain the muscles.
The doctor will look at the individual's resting position while standing.
An individual with slumped shoulders can slouch, even when standing up straight.
Their hands will likely face behind them, with their thumbs pointed at each other.
Once the adjustments are made, a correct standing posture will make the hands face the body with the thumbs facing ahead.
Exercises will be recommended to strengthen the core and stretches to maintain the adjustments.
---
Posture Chiropractic
---
References
Fathollahnejad, Kiana, et al. "The effect of manual therapy and stabilizing exercises on forward head and rounded shoulder postures: a six-week intervention with a one-month follow-up study." BMC musculoskeletal disorders vol. 20,1 86. 18 Feb. 2019, doi:10.1186/s12891-019-2438-y
Go, Seong-Uk, and Byoung-Hee Lee. "Effects of scapular stability exercise on shoulder stability and rehabilitative ultrasound images in office workers." Journal of physical therapy science vol. 28,11 (2016): 2999-3002. doi:10.1589/jpts.28.2999
Kwon, Jung Won, et al. "Changes in upper-extremity muscle activities due to head position in subjects with a forward head posture and rounded shoulders." Journal of physical therapy science vol. 27,6 (2015): 1739-42. doi:10.1589/jpts.27.1739
Lee, Do Youn, et al. "Changes in rounded shoulder and forward head posture according to exercise methods." Journal of physical therapy science vol. 29,10 (2017): 1824-1827. doi:10.1589/jpts.29.1824
Park, Sang-In, et al. "Effects of shoulder stabilization exercise on pain and functional recovery of shoulder impingement syndrome patients." Journal of physical therapy science vol. 25,11 (2013): 1359-62. doi:10.1589/jpts.25.1359