Many live with chronic discomfort and pain regularly in one or both knees. This could be from past injuries, being overweight, lack of physical conditioning, degeneration, or arthritis. Many take prescription or over-the-counter pain medication to deal with the discomfort. Pain medications only dull and mask the pain and discomfort associated with the symptoms. As a result, living with masked knee pain can worsen the condition, and the surrounding bones, joints, and tissues can begin to deteriorate. Chiropractic combined with massage, decompression, and traction therapy can significantly reduce or eliminate knee pain.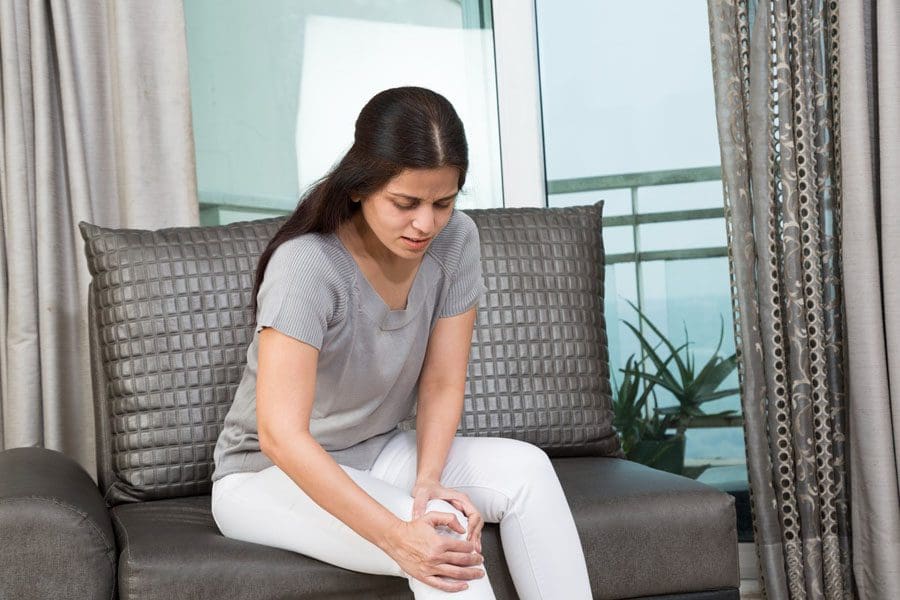 Knee Discomfort and Pain
The knee's joint and ligaments need to be strong and healthy to support activities. The most common issues that individuals develop include:
Acute Injuries
Knee injuries can be caused by auto accidents, physical strain, playing sports, work accidents, workplace ergonomics, and walking up and down stairs.
The most common acute knee injuries include:
Knee contusions.
Ligament sprain.
Muscle strains.
Puncture injuries.
Chronic Injuries
Chronic or inflammatory medical conditions can wear down the cartilage cushion between the upper and lower leg bones.
Most common include gout, septic arthritis, osteoarthritis, and rheumatoid arthritis.
Unhealthy postures and obesity can also contribute to the chronic degradation of the knee joint.
Knee discomfort and pain can present in various ways. Some might hear an acute popping in the knee followed by swelling. Others might notice the gradual development of stiffness and weakness over time. When injured or compromised, localized pain is one of the first indicators. Chronic knee and joint pain can lead to weakness, nerve damage, or create new injuries/problems. Not all knee pain is caused by injury; in many cases, a triggering incident, like an awkward step or misstep, a stretch that went too far, or a walk, can create an injury. Even a sedentary lifestyle can contribute to knee degeneration as the surrounding muscles can lose strength, placing unnecessary strain on the joints when movement is necessary.
Chiropractic
A chiropractor will examine the knee through a series of analyses, including x-rays, digital imaging, and a physical exam. The chiropractor will develop a personalized treatment plan to treat, rehabilitate, and strengthen the knee. The treatment can include:
Physical therapy
Massage therapy
Hip manipulation
Knee manipulation
Posture correction to distribute body weight evenly, lessening the stress on an affected knee.
Targeted exercises and nutritional recommendations will ensure long-term healing.
---
Q Angle of the Knee
---
References
Cimino, Francesca, et al. "Anterior cruciate ligament injury: diagnosis, management, and prevention." American family physician vol. 82,8 (2010): 917-22.
Donnell-Fink, Laurel A et al. "Effectiveness of Knee Injury and Anterior Cruciate Ligament Tear Prevention Programs: A Meta-Analysis." PloS one vol. 10,12 e0144063. 4 Dec. 2015, doi:10.1371/journal.pone.0144063
Hoskins, Wayne, et al. "Chiropractic treatment of lower extremity conditions: a literature review." Journal of manipulative and physiological therapeutics vol. 29,8 (2006): 658-71. doi:10.1016/j.jmpt.2006.08.004
Neogi, Tuhina, et al. "Sensitivity and sensitization in relation to pain severity in knee osteoarthritis: trait or state?." Annals of the rheumatic diseases vol. 74,4 (2015): 682-8. doi:10.1136/annrheumdis-2013-204191