Nerve damage is also known as peripheral neuropathy. Peripheral nerves transmit information to and from the brain through the spinal cord to the rest of the body. Nerve damage symptoms are common in the neck, arms, hands, low back, legs, and feet. Communication becomes weakened, interrupted, or no longer transmits sensation signals. Nerve damage can be a complication from conditions like diabetes or present after an injury. Injury Medical Chiropractic and Functional Medicine Clinic recognize the symptoms and can treat the injuries rehabilitating the nerves back to functional health.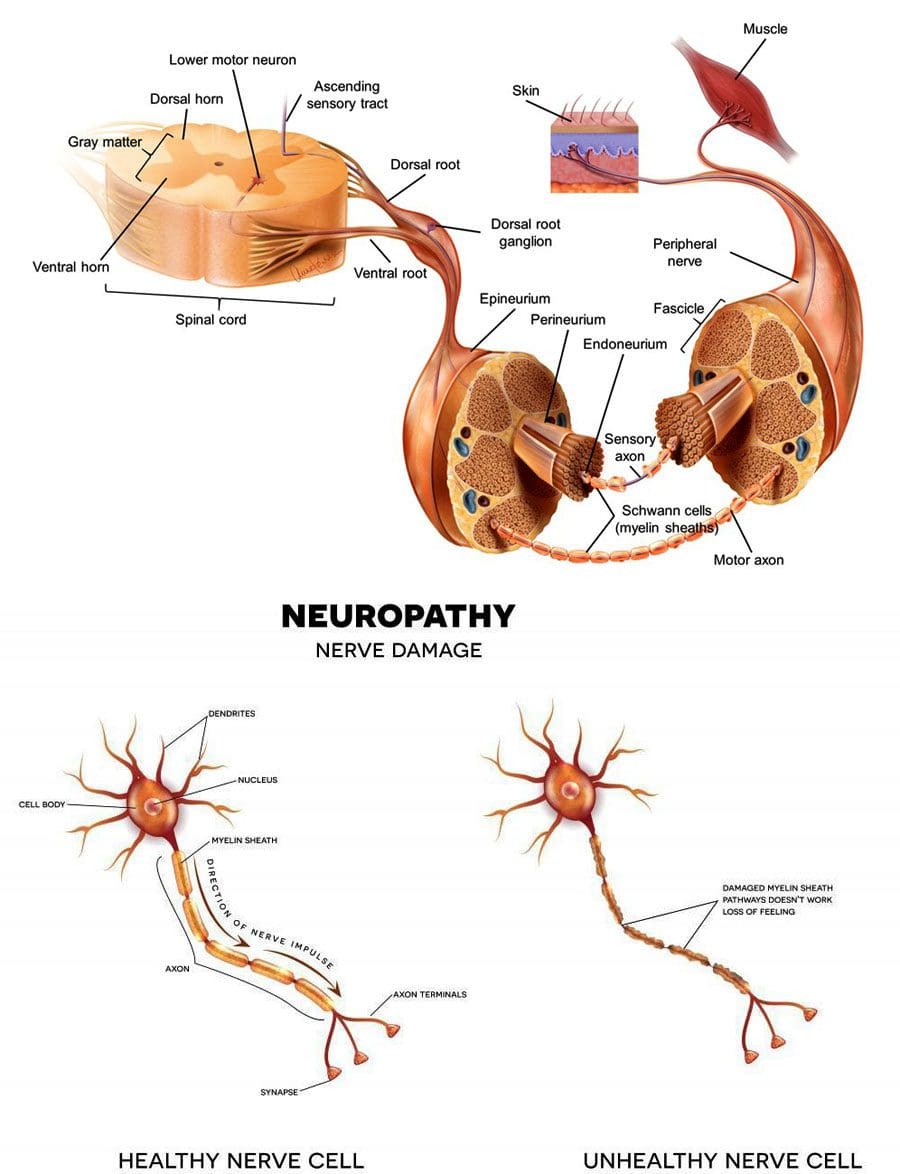 Nerve Damage Symptoms
Nerve damage symptoms can happen to a single nerve or a group of nerves that can affect the rest of the body. Damage depends on the severity of the condition or injury.
Partially damaged nerves can heal on their own with minimal treatment to ensure they heal correctly. 
Nerves are made up of fibers called axons.
The fibers are covered with tissues that are a type of insulation.
Sometimes only the fibers get damaged.
Sometimes a nerve gets stuck or jammed inside a tight space, causing irritation and, over time, scarring.
Severe nerve damage can involve the fibers and tissues and often require surgery.
Symptoms can range from mild to severe and depend on which nerve fibers are damaged. These could be the following:
Motor nerves
These nerves regulate all the muscles under conscious control.
These control motor functions like walking, talking, and grabbing and holding objects.
Damage to these nerves usually causes muscle weakness, cramps, and uncontrollable muscle twitching or spasms.
Sensory nerves
These nerves relay sensory information, including touch, taste, smell, vision, temperature, and pain.
Symptoms can include numbness or tingling.
There can also be difficulties:
Sensing pain
Sensing temperature changes.
Walking
Maintaining balance with your eyes closed.
Working with the hands.
Autonomic nerves
This group of nerves regulates unconscious actions, including breathing, heart and thyroid function, and digestion.
Symptoms include excessive sweating, blood pressure variations, inability to tolerate heat, and gastrointestinal issues.
Various symptoms can be experienced as many peripheral nerve injuries affect more than one type of nerve.
Signs
Improperly functioning nerves can cause uncomfortable or painful sensations because the nerves cannot carry the correct signals from the brain to the spinal cord. The signs of nerve damage include the following:
Feeling like you're wearing an overly tight glove or sock constricting circulation and movement.
Numbness or tingling.
Pins and needles or what feels like mild electrical sensations.
Specific body/limb positions can cause or decrease numbness, tingling, or pins and needles.
Muscle weakness.
Dropping objects regularly.
Sharp pains in the hands, arms, low back, legs, or feet.
Restoring Function
Chiropractic treatments can help restore function and include:
Therapeutic Massage
Therapeutic massage will promote circulation to relieve numbness and tightness and help restore function and feeling.
Chiropractic
Chiropractic adjustments will realign the body and keep affected muscles and joints active.
Electrical Stimulation
Stimulators can activate injured nerves and muscles while the nerve regenerates and recovers.
Braces or Splints
These devices could be used to maintain the position of the affected limb, fingers, hand, or foot to improve muscle function and promote healing.
Exercise
Specifically, prescribed exercises will improve muscle strength, help to maintain range of motion, and reduce muscle cramps.
Diet
A nutritionist will develop a personalized anti-inflammatory diet to expedite healing.
---
Peripheral Therapy
---
References
Chen, Zhengrong. "Progress of peripheral nerve repair." Chinese Journal of traumatology = Zhonghua Chuang Shang za Zhi vol. 5,6 (2002): 323-5.
Gordon, Tessa. "Electrical Stimulation to Enhance Axon Regeneration After Peripheral Nerve Injuries in Animal Models and Humans." Neurotherapeutics: the journal of the American Society for Experimental NeuroTherapeutics vol. 13,2 (2016): 295-310. doi:10.1007/s13311-015-0415-1
www.ninds.nih.gov/peripheral-neuropathy-fact-sheet
WEBB, E M. "Peripheral nerve injuries; early surgical treatment." California medicine vol. 80,3 (1954): 151-3.
Welch, J A. "Peripheral nerve injury." Seminars in veterinary medicine and surgery (small animal) vol. 11,4 (1996): 273-84. doi:10.1016/s1096-2867(96)80020-x