Sports exercise headaches are exertion headaches that involve pain during or immediately after sports, exercise, or some physical activity. They come on quickly but can last a few minutes, hours, or days. Activities associated with exercise headaches include running, weightlifting, tennis, swimming, and rowing. Chiropractic, massage, decompression, and traction therapies can realign the body and relax the muscles allowing for optimal circulation and certain strategies to help prevent future episodes. Usually, there is no underlying disease or disorder, but it is recommended to talk to a healthcare provider to make sure.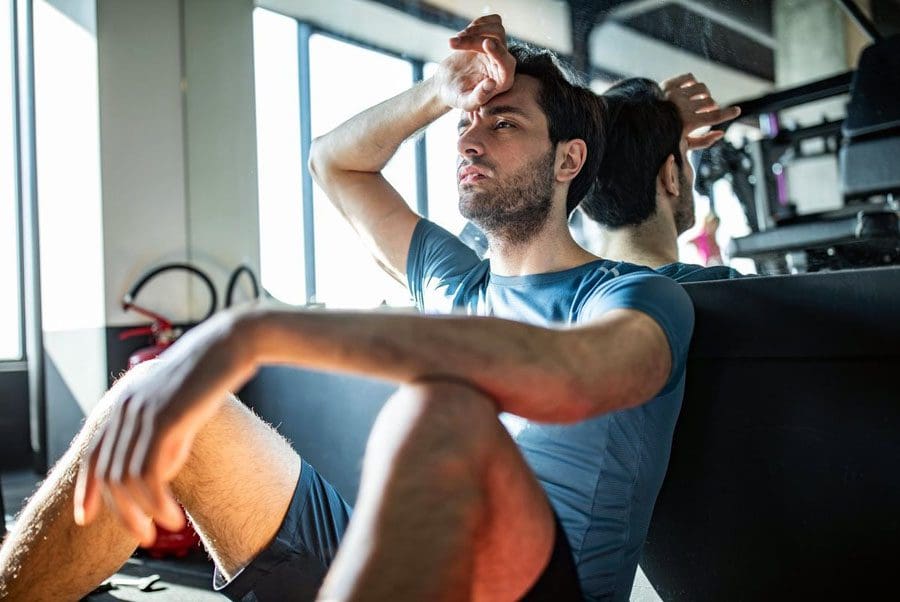 Sports Exercise Headaches
When individuals exert their bodies intensely, they need added blood and oxygen, particularly with activities that involve tightening/tensing the abdominal muscles or increasing chest pressure. Doctors and scientists believe an exertional headache occurs when intense physical activity causes the veins and arteries to expand to circulate more blood. The expansion and increased blood circulation generate pressure in the skull that can cause pain.
Alternate Triggers
Exercising is not the only cause; other physical activities that can trigger an exertion headache include:
Sneezing
Coughing
Straining to use the bathroom
Sexual intercourse
Lifting  or moving a heavy object
Symptoms
Symptoms of a sports exercise headache include:
Neck stiffness or pain
Pain on one or both sides of the head
Pulsating pain discomfort
Throbbing pain discomfort
Shoulder tightness, discomfort, and/or pain
Sometimes individuals report the headache can feel like a migraine that could include:
Vision problems like blind spots
Nausea
Vomiting
Light sensitivity
Most exercise headaches last five to 48 hours and can continue for three to six months.
Diagnosis
An underlying disease or disorder does not cause most exertional headaches. However, individuals experiencing severe or frequent headaches should consult their doctor or a healthcare provider. Tests will be ordered to rule out possible causes that include:
If there is no underlying cause found, the medical provider can diagnose exertion headaches if there have been at least two headaches that:
Were caused by exercise or physical activity.
Started during or after the physical activity.
Lasted less than 48 hours.
Chiropractic Treatment
According to the American Chiropractic Association, spinal adjustments are an effective headache treatment option. This includes migraines, tension headaches, or sports exercise headaches. Using the targeted approaches, chiropractic restores the body's natural alignment to improve function and alleviate stress on the nervous system. This allows the body to operate at optimal levels reducing muscle stress and muscle tension.
---
DOC Decompression Table
---
References
American Migraine Foundation. Secondary Headaches. (americanmigrainefoundation.org/resource-library/secondary-headaches/) Accessed 11/17/2021.
Evans, Randolph W. "Sports and Headaches." Headache vol. 58,3 (2018): 426-437. doi:10.1111/head.13263
International Headache Society. HIS Classification ICHD-3. (ichd-3.org/other-primary-headache-disorders/4-2-primary-exercise-headache/) Accessed 11/17/2021.
McCrory, P. "Headaches and exercise." Sports medicine (Auckland, N.Z.) vol. 30,3 (2000): 221-9. doi:10.2165/00007256-200030030-00006
National Headache Foundation. Exertional Headaches. (headaches.org/2007/10/25/exertional-headaches/) Accessed 11/17/2021.
Ramadan, Nabih M. "Sports-related headache." Current pain and headache reports vol. 8,4 (2004): 301-5. doi:10.1007/s11916-004-0012-1
Trotta K, Hyde J. Exercise-induced headaches: prevention, management, and treatment. (www.uspharmacist.com/article/exerciseinduced-headaches-prevention-management-and-treatment) U.S. Pharm. 2017;42(1):33-36. Accessed 11/17/2021.