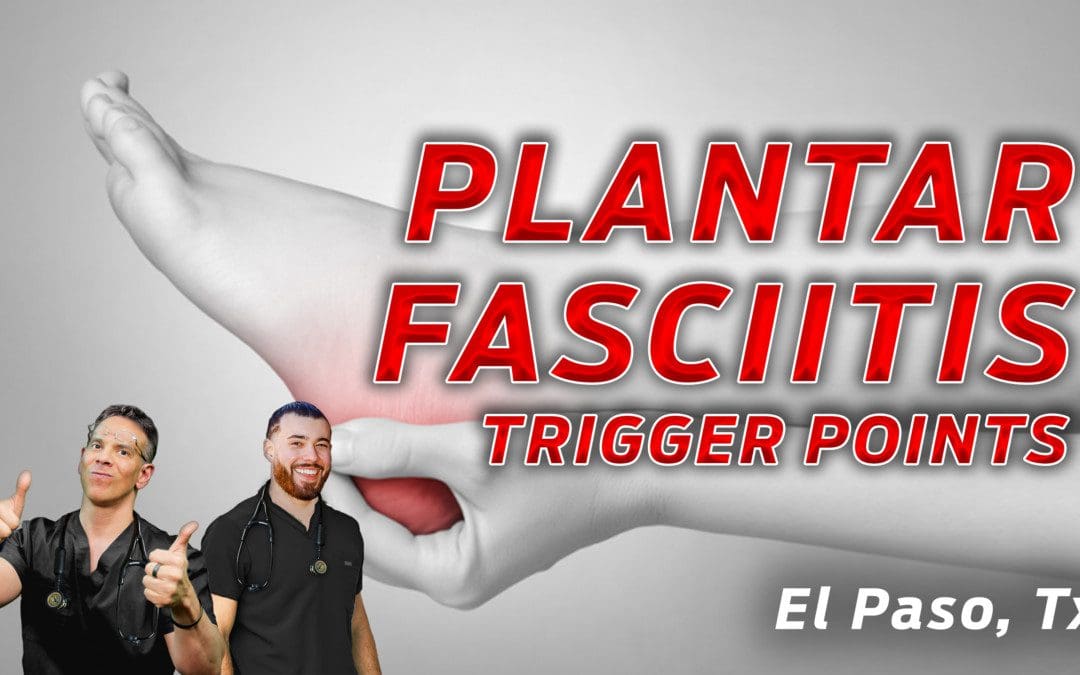 Introduction
Everyone worldwide knows that feet are important. The feet allow many individuals to run, walk, or jog for long periods without feeling pain for a moderate amount of time. To that point, the various muscles and tendons surrounding the foot provide full body flexion, extension, and stability. Even though it is very easy to get in the recommended amount of steps into being healthy, around 75% of individuals will have foot pain that can impact their ability to walk. One of the most common foot pains is plantar fasciitis, which can become a painful foot condition if it is not treated as soon as possible. Today's article looks at plantar fasciitis, its symptoms, how trigger points correlate, and treatments for it. We refer patients to certified providers incorporating techniques and therapies for individuals dealing with plantar fasciitis. By locating where the trigger points are coming from, many pain specialists can develop a treatment plan to reduce the effects that plantar fasciitis is causing on the feet. We encourage and appreciate each patient by referring them to associated medical providers based on their diagnosis when it is appropriate. We understand that education is a terrific way when asking our providers intricated questions at the patient's request and understanding. Dr. Jimenez, D.C., only utilizes this information as an educational service. Disclaimer
taping-for-trigger-point-peroneal-muscles_6394f3b4

What Is Plantar Fasciitis?

Have you been dealing with constant heel pain? Do you feel pain shooting up your leg when you step or walk? Or do you feel a stabbing ache in your heel? Many of these pain issue people are dealing with correlate with plantar fasciitis. Studies reveal that plantar fasciitis results from degenerative irritation on the plantar fascia and its ligaments. This causes the muscle ligaments to become inflamed, swollen, and weak, which then causes the bottom of the foot or heel to hurt when a person is walking or standing. To that point, when there is a repetitive strain on the feet, it causes microtears in the plantar fascia. The plantar fascia in the foot plays an important role as it comprises three segments that support the medial arch and shock absorption when stepping down. As one of the most common causes of heel pain, the residual pain from plantar fasciitis tends to be a sharp, stabbing sensation. Plantar fasciitis is more prominent in middle-aged people. Still, anyone at any age can develop plantar fasciitis, especially if they have labor jobs requiring them to be constantly on their feet.
Symptoms Of Plantar Fasciitis
Since around 2 million Americans could potentially develop plantar fasciitis, it is important to know that when a person has been on their feet constantly, there will be inflammation along the tissues in the feet. Many individuals with a busy lifestyle that requires them to be on their feet frequently would often ignore the pain or discomfort. Some of the symptoms that plantar fasciitis causes include the following:
Pain on the bottom of the heel

Pain in the arch 

Pain that is usually worse when waking up

Pain that increases over months

Swelling on the bottom of the heel
However, when the pain becomes overbearing, many people would often think they have sore feet or low back pain from being overly tired from work, under constant stress, or over-exerting their bodies. When this happens, many would think the pain would go away in a few days after resting for a short period.
Trigger Points Associated With Plantar Fasciitis

Now many individuals would often think that plantar fasciitis just only affects the heels, however, it can affect any part of the structure of the foot since all the surrounding muscle tissues are at risk of inflammation. When people start to ignore the pain and discomfort that plantar fasciitis is causing on the feet, it can overlap and develop trigger points in other areas of the body:
Ankles
Knees
Hips
Lower back
Studies reveal that trigger points or myofascial pain syndrome are hard, discrete, small nodules that are along the taut musculoskeletal band that causes numerous issues like inflammation, hypersensitivity, and pain to the affected muscle groups in the body. According to "Myofascial Pain and Dysfunction" written by Dr. Travell, M.D., it mentions that when the deep intrinsic muscles that work with the plantar fascia are affected by trigger points, would cause symptoms of numbness and the feeling of swelling in the foot. This causes many people to have limited mobility and have intense pain when walking, which can negatively impact their lifestyle.
---
An Overview Of Plantar Fasciitis- Video
Have you been dealing with aching feet? Do you feel a sharp, radiating pain in your feet? Or do you have difficulty walking? Many often think they are dealing with sore feet or other issues causing them pain. Around 75% of Americans often have foot pain affecting their ability to walk, and one of them is plantar fasciitis. The video above explains plantar fasciitis and how it can affect the feet. When the plantar fascia tendons become overused, it causes micro-tears in the muscle ligaments. When added compressive force starts to push against the heel boner, it can lead to a pathological state whereby the plantar fascia degenerates and creates dysfunction and pain. When this happens, it can lead to other conditions like trigger point pain along the muscle fibers in the foot. The pain and tenderness caused by trigger points in the plantar muscles may mask as plantar fasciitis. To that point, when plantar fasciitis becomes an issue and causes the individual to be in immense pain, it can become problematic. As luck would have it, treatments are available to reduce the pain from plantar fasciitis.
---
Treatments For Plantar Fasciitis

When treating plantar fasciitis, many available treatments can reduce the inflammatory effects in the heel and prevent trigger points from coming back. One of the available treatments is chiropractic care. Chiropractic care is an alternative treatment option to prevent, diagnose, and treat numerous injuries and conditions associated with the spine, primarily subluxations or spinal misalignments. Chiropractic focuses on restoring and maintaining the overall health and wellness of the musculoskeletal and nervous systems through spinal manipulation and adjustments. A chiropractor can carefully re-align the spine, improving a patient's strength, mobility, and flexibility. Regarding plantar fasciitis, chiropractic care can work with other treatments, including physical therapy, massage, and even injections, to manage the pain and treat the condition. Even though plantar fasciitis takes several months to heal, chiropractic care can involve a precise technique that involves adjustments to the feet, ankles, and spinal alignment. This provides several benefits, which include the following:
Reduces Stress in the Plantar Fascia

 

Promotes Healing

 

Provides Effective Pain Management

 

Reduces the Risk of Further Injury

 
Conclusion
As many individuals worldwide are on their feet constantly, foot pain can hinder one's ability to move. One of the most common foot pain is plantar fasciitis which can correlate with trigger points along the various muscles of the foot. Plantar fasciitis results from degenerative irritation on the plantar fascia and its ligaments, which causes sharp, stabbing pain on the heel. When this happens, it can cause the heel to be inflamed, swollen, and weak. To that point, it causes instability and pain when walking. However, plantar fasciitis can be treated when it is caught early through various treatments like chiropractic care. Chiropractic care can reduce the stress in the plantar fascia and help reduce the risk of further injuries. Combined with other therapies, many people can function normally and regain their walking ability without pain.
References
Buchanan, Benjamin K, and Donald Kushner. "Plantar Fasciitis – StatPearls – NCBI Bookshelf." In: StatPearls [Internet]. Treasure Island (FL), StatPearls Publishing, 30 May 2022, www.ncbi.nlm.nih.gov/books/NBK431073/.
Petrofsky, Jerrold, et al. "Local Heating of Trigger Points Reduces Neck and Plantar Fascia Pain." Journal of Back and Musculoskeletal Rehabilitation, U.S. National Library of Medicine, 2020, pubmed.ncbi.nlm.nih.gov/31594202/.
Shah, Jay P, et al. "Myofascial Trigger Points Then and Now: A Historical and Scientific Perspective." PM & R : the Journal of Injury, Function, and Rehabilitation, U.S. National Library of Medicine, July 2015, www.ncbi.nlm.nih.gov/pmc/articles/PMC4508225/.
Travell, J. G., et al. Myofascial Pain and Dysfunction: The Trigger Point Manual: Vol. 2:the Lower Extremities. Williams & Wilkins, 1999.
Disclaimer