Skateboarding is a popular activity among children, teenagers, and young adults. It is recreational, competitive, fun, and exciting but, like any sport, carries a risk of injury. There are around 70,000 skateboarding injuries requiring a visit to the emergency room every year. The most common injuries involve the shins, ankles, forearms, wrists, elbows, face, and skull, with many left untreated that worsen as they heal improperly, leading to further damages and complications. Chiropractic can treat the injuries, rehabilitate the muscles and joints, and strengthen the body to get the skater back on their board.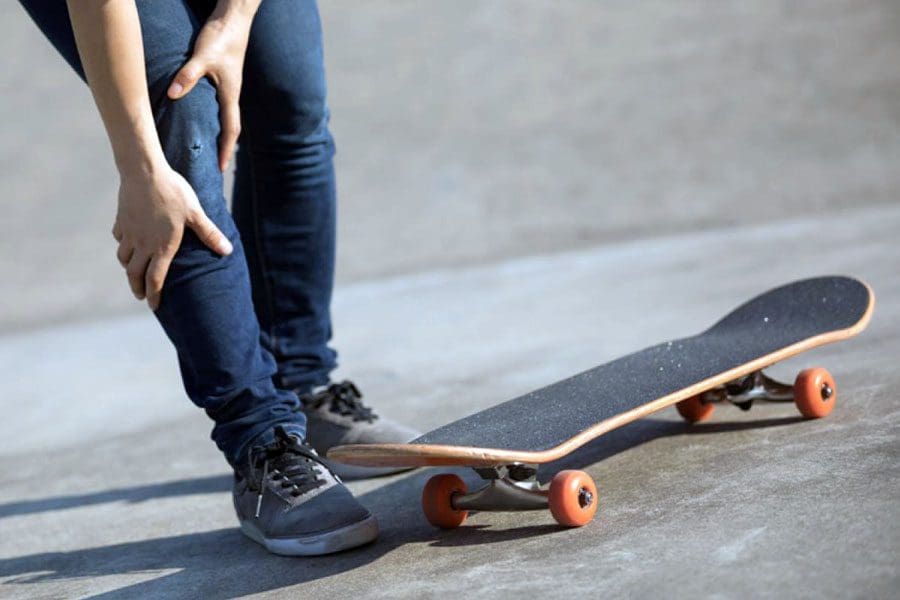 Skateboarding Injuries
Skateboarding injuries can range from scrapes, cuts, and bruises to sprains, strains, broken bones, and concussions.
Shin injuries often happen during flip/twist tricks where the board or axle hits the shin causing bruising and swelling.
Shoulder, wrist, and hand injuries are common when skaters lose their balance and fall with outstretched arms.
Ankle injuries include rolls/sprains, as well as dislocations and fractures.
Dislocations usually happen to the shoulders, wrists, and fingers.
Facial injuries include teeth knocked out, broken nose, or jaw are typically caused by fast forward hard falls.
Severe injuries include concussions and head injuries.
Injury causes
Skateboarding injuries typically occur from:
Skating on irregular surfaces locks up wheels and affects balance, causing falls.
Losing balance or losing control of the board and falling hard/slamming into the pavement.
Inexperience, slow reaction times, and less coordination lead to falls and slams.
Skating into another skater, a person walking or cycling, a car, or a road hazard.
Trying an advanced trick/maneuver too soon and beyond their skill level.
The inexperience of knowing how to fall to prevent injuries.
Chiropractic Therapy
A chiropractor can work with other doctors and specialists to:
Assess and treat the skateboarding injury/s.
Reset the spine, hips, arms, hands, and feet.
Rehabilitate and strengthen the body.
Recommend safety and prevention education.
Help prevent further injuries and long-term effects.
---
Chiropractic Skateboarding Injury Treatment
---
References
Forsman, L, and A Eriksson. "Skateboarding injuries of today." British journal of sports medicine vol. 35,5 (2001): 325-8. doi:10.1136/bjsm.35.5.325
Hunter, Jamie. "The epidemiology of injury in skateboarding." Medicine and sport science vol. 58 (2012): 142-57. doi:10.1159/000338722
Partiali, Benjamin, et al. "Injuries to the Head and Face From Skateboarding: A 10-Year Analysis From National Electronic Injury Surveillance System Hospitals." Journal of oral and maxillofacial surgery: official journal of the American Association of Oral and Maxillofacial Surgeons vol. 78,9 (2020): 1590-1594. doi:10.1016/j.joms.2020.04.039
Shuman, Kristin M, and Michael C Meyers. "Skateboarding injuries: An updated review." The Physician and sportsmedicine vol. 43,3 (2015): 317-23. doi:10.1080/00913847.2015.1050953