Getting ready for holiday celebrations takes a great deal of work. Visiting family and friends, traveling, spending hours shopping, wrapping gifts, setting up lights, trees, planning meals can make the body feel achy, tight, tired, and sore. Stress is multiplied by ten, adding to the muscle tension, which can cause illness and other health problems. Chiropractic treatment alleviates symptoms bringing stress relief to enjoy the holidays. This includes body adjustments, therapeutic massage, health coaching, nutrition guidance, strengthening exercises, stretch training, and everything to maintain full-body health, prevent illness and injury so individuals can feel and function at their best.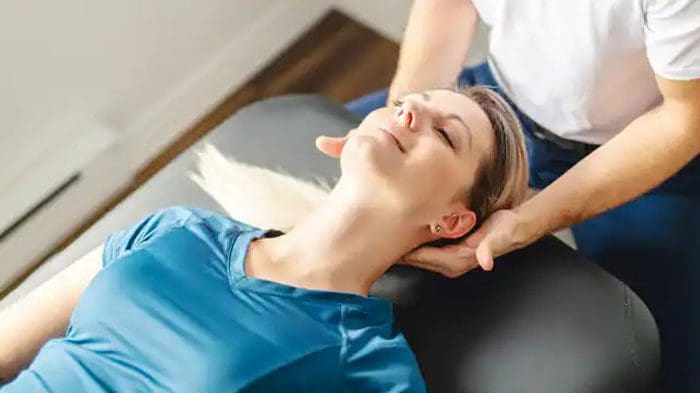 Aches and Pains
Shopping at stores, malls can cause the body to experience adverse physical effects. Spending hours walking and standing can trigger neck, shoulder, back, leg, and foot pain. Spending hours hunched over a computer, laptop, tablet, or phone while online shopping can also cause neck, back, and shoulder pain. Soreness and pain can result from the spine and the rest of the body becoming misaligned.
Muscle tightening is a common sign of stress. When the mind and body become overwhelmed or anxious, the neck, shoulders, or upper back muscles can tense up. Muscle tension can limit the body's range of motion and trigger headaches. Therapeutic massage, mobilization, soft tissue therapy, ultrasound, and other chiropractic treatments can generate stress relief. Massaging the body also triggers the release of endorphins that help the body calm down and relax. The adjustments and massage also increase/improve blood flow that supports healing and reduces anxiety when stress begins to build.
Stomach Issues
Following the usual diet during the holiday season is a challenge. Work parties, restaurant parties, and family meals offer an array of holiday foods and treats. The body is not used to eating a lot of rich, fatty, sugary, or fried foods, and can experience bloating, constipation, gas, and other uncomfortable symptoms. These issues can be traced to the nerves that control the organs. Chiropractic can balance the nerves to help avoid uncomfortable digestive problems and help the body handle the rich diet better.
Maintaining Health and Stress Relief
Aches and pains are not the only effects of stress, body misalignment, and tight joints and/or muscles. If these structures press against the nerves and/or organs, it can affect immune system function. Chiropractic ensures that the organs communicate correctly through the nerves, balance the body,  reduce inflammation, and improve lymph fluid drainage. The fluid removes toxins and wastes from the body, making fighting colds and other illnesses easier.
---
Body Composition
---
White Coat Syndrome
White Coat Syndrome is the term used for any changes in blood pressure that individuals experience in response to being in a medical office or clinic. Three distinct diagnoses are based on how an individual's blood pressure responds to being in the presence of a healthcare professional:
White Coat hypertension
This is when an individual is not taking medication for blood pressure but presents with high blood pressure in a medical office and returns to normal once they leave the medical facility.
White Coat effect
This is when an individual is taking medication for high blood pressure and shows a high blood pressure reading in a medical office that indicates their medication is not working.
Masked Hypertension
This is when an individual has normal blood pressure in a medical office but high blood pressure elsewhere.
References
Ahmad, Asma Hayati, and Rahimah Zakaria. "Pain in Times of Stress." The Malaysian journal of medical sciences: MJMS vol. 22,Spec Issue (2015): 52-61.
PBS NewsHour. (December 2018) "Poll: How stressed are Americans this holiday season?" www.pbs.org/newshour/nation/poll-how-stressed-are-americans-this-holiday-season
Pioli, Mariana R et al. "White coat syndrome and its variations: differences and clinical impact." Integrated blood pressure control vol. 11 73-79. 8 Nov. 2018, doi:10.2147/IBPC.S152761
The United States Consumer Product Safety Commission (CPSC). (2019) "Holiday Safety Information Center" www.cpsc.gov/Safety-Education/Safety-Education-Centers/holiday-safety