Finding the right physical activity that elevates heart rate and maintains it for 30 minutes a day increases the amount of oxygen delivered to the heart, brain, and muscles. Some form of aerobic activity will keep individuals moving in a healthy direction. ​This benefits the:
Heart
Muscles
Mood
Self-esteem
Amount of energy
It helps to lower:
Blood pressure
Cholesterol
Blood sugar
Body fat
Anxiety
Depression
Fatigue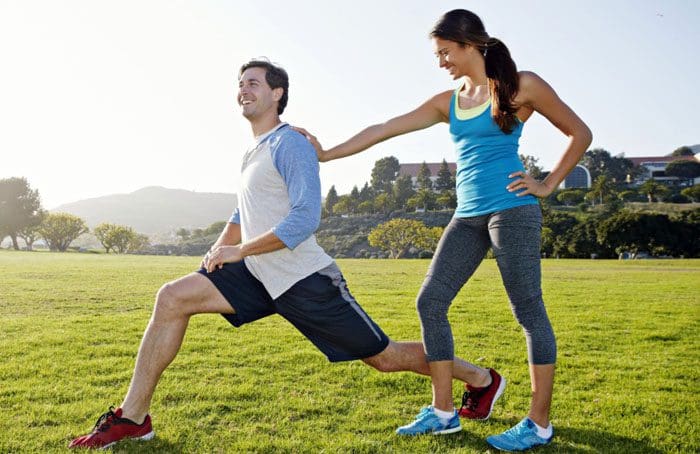 Finding What Works For You
Doctors and health experts agree that individuals need to perform normal/moderate activity balanced with vigorous/intense activity. Some ideas for both types include:
Moderate Intensity Activities
General moderate exercises:
Light to moderate calisthenics
Weight lifting
Bodybuilding
Light-moderate workouts on Nautilus, Universal machines, or rowing machine
Many activities in the moderate-intensity list can be increased to a vigorous level by doing them faster or harder.
Vigorous Intensity Activities
General vigorous exercises:
Walking uphill
Jogging
Running
Jumping rope
Stair-climber
Skiing machine
Stationary bicycling
Outdoor Moderate Activities
Moderate exercises:
Children's games – hopscotch, 4-square, and dodge ball
Fishing
Throwing a Frisbee
Outdoor vigorous activities:
Vigorous exercises:
Sports – soccer, field hockey, tennis, basketball, flag football, volleyball
Hiking
Cycling
Mountain biking
Skating and skateboarding
Horseback riding
House and Yard Work/Chores
Moderate house and yard work exercises:
Sweeping
Vacuuming
Mopping
Washing the car by hand
Sweeping the garage, walkways, sidewalk, or patio
Mowing the lawn
Raking the lawn
Labor intense gardening
Vigorous house and yard work exercises:
Shoveling dirt, rocks, etc
Carrying groceries upstairs
Carrying boxes
Moving furniture
Cleaning and organizing the house
Mix it up
Finding the activities that work for you are important. But mix them up, so you don't get bored and tired of them. For example, if getting bored with walking, try a light aerobics class, dancing, or something similar.
Try new routes for walking and biking.
Change the room for exercising or stretching.
Exercise at different times, so it doesn't just become a chore.
Mix up the amount of time exercising. Do a full 30 minute or longer workout one day, then break the workout into smaller 15, 10, 5-minute workouts other days.
Having options allows you to pick and choose what suits your mood and schedule.
Job Physical Activity
If job occupation includes sitting for long periods, try adding short bursts of activity throughout the day:
If the commute permits, walk, jog, or bicycle to work.
Park several blocks away or the furthest in the parking lot to get some walking in.
Use the stairs instead of the elevator for a few floors.
Get coffee or use the bathroom on another floor using the stairs the farthest from the office.
Need to talk to a coworker, take a walk to their office or station instead of e-mail or phone.
Finding breaks to take quick walks and stretch out.
Get Involved In Competition
Competition can motivate individuals as it:
Requires specific and measurable goals to work toward. An example could be training to walk or run a race.
Learning the details of an event and preparing/training can generate or restore the excitement and challenge of the activity.
Instead of entering a competition, an individual can help with organizing and planning. This can provide friendship with other individuals interested in the same activity that can lead to working out together and staying motivated.
CrossFit Training
CrossFit training is a combination of various exercises to work out various muscle groups. CrossFit can be beneficial because:
It prevents boredom by providing a variety of workouts.
It helps maintain balance among various muscle groups.
For example, runners that have powerful leg muscles cross-train to strengthen the upper body.
It reduces the risk of injuries because the combination of exercises allows muscles to recover while working out a different set of muscles.
Whatever the case, it's all about finding what works for you. But the objective is to keep the body moving to maintain overall health.
---
Body Composition
---
Why the brain needs sugar?
The brain needs half of the body's energy supply because of its complex system. The brain needs glucose for brain cell energy. As neurons cannot store energy, they need a constant fuel supply to function properly. The ability to think, learn and recall information is connected with the body's glucose levels. When blood glucose levels are low, the ability to think clearly is slowed down as the production of neurotransmitters is reduced, leading to communication disruption. Natural sugars can increase brain health for optimal functioning. When consuming naturally occurring sugar like apples and bananas, sugar is released incrementally into the bloodstream. This maintains energy levels at a steady pace, and the body does not crave more sugar.
References
Berg JM, Tymoczko JL, Stryer L. Biochemistry. 5th edition. New York: W H Freeman; 2002. Section 30.2, Each Organ Has a Unique Metabolic Profile. Available from: www.ncbi.nlm.nih.gov/books/NBK22436/
Ainsworth BE, et al. (2011). Compendium of Physical Activities Tracking Guide. Columbia, SC: Prevention Research Center, Norman J. Arnold School of Public Health, University of South Carolina. Available online: prevention.sph.sc.edu/tools/compendium.htm.