APT is short for anterior pelvic tilt.  APT is when the pelvis tilts more down than forward, which can cause strain on the surrounding muscles and the spine to hold the torso up. The body's own anatomical structure causing the condition and/or part of a bad habit that an individual has grown accustomed to. This can be from injury/s, back, and/or hip pain causing an individual to take on awkward postures to compensate for the discomfort and try and avoid it. However, these unhealthy postures cause their own set of musculoskeletal problems. Addressing this form of poor posture can help reduce and alleviate low back and hip pain and prevent further injuries.  Chiropractic can pinpoint an anterior pelvic tilt and fix it.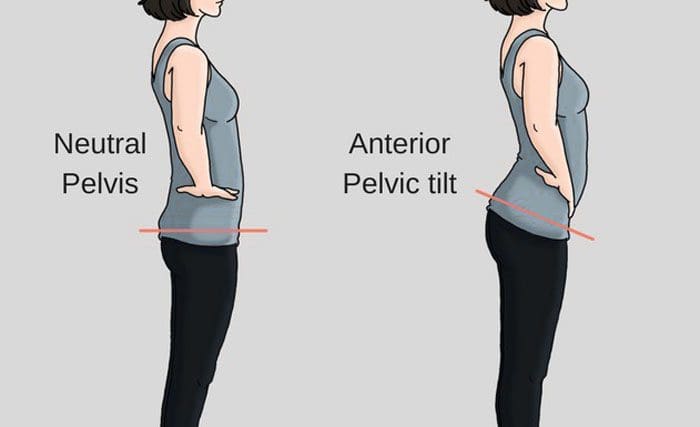 Anterior Pelvic Tilt
What happens is the pelvis becomes tilted or rotated forward. Place the hands, specifically the fingertips, on the hips. There are bone ridges. These are the iliac crests. If they're facing more toward the ground than directly forward, this could be an anterior pelvic tilt. It usually happens when the hip flexors become tight and pull the pelvis down. Another contributor is the glute and hamstring muscles have weakened and are not strong enough to counteract the forward pulling. This can be caused by sitting for long periods, poor posture, and for women who wear high heels regularly. These contribute to tightening the hip flexors and the glutes, hamstrings, and core muscles.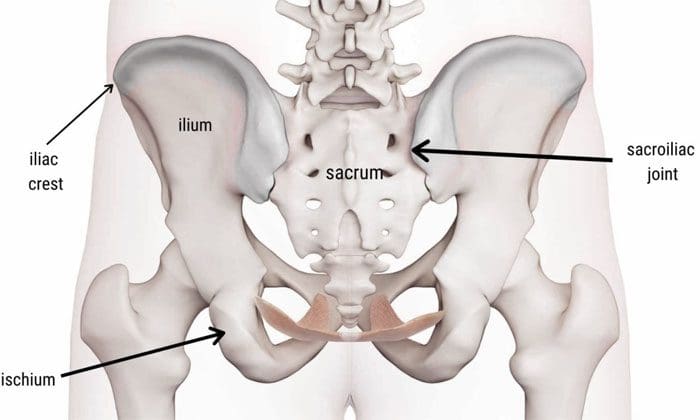 An anterior pelvic tilt causes an increase in the curve of the lower back. It can feel like the hip flexors are tightening up. It typically affects the lower back at the lowest two levels, which are L4-5 and L5-S1. There can be long-term issues if an anterior pelvic tilt is left untreated. The spine becomes more vulnerable to disc issues that can include:
Compressed degenerative disc
Disc tears, aka annular tears
Disc bulges
Herniation
Exercises
An anterior pelvic tilt is a repairable condition. Several exercises can help loosen/relax the hip flexors and strengthen the core and posterior muscle chain. This in addition to walking and reducing wearing high heels regularly. A few exercises for anterior pelvic tilt.
The Tail Tuck
This is literally trying to tilt the tailbone forward, like tucking in an imaginary tail. This can be done for 10-12 reps and up to 3 times.
Plank
Core-strengthening exercises can help with all types of back and hip problems. If possible, do the exercises in front of a mirror to ensure no arching of the back or the butt sticking out. If it is too difficult on the hands, go to the elbows. If there are wrist or shoulder issues, planks can be done on a raised surface, like a table or couch. Hold as long as possible, maintaining proper form. Start with 10-30 seconds and build up to minutes.
Strengthening the Glutes
It is recommended to strengthen the glute muscles. This can be done with exercises like clams or side-stepping with resistance bands. For clams, lie on the side and raise each leg up and down 10-12 times, up to 3 sets. For side-stepping, place resistance bands around the ankle/shin area and step to the side for 8-10 steps. Then go the other direction for the same number of steps. Repeat up to 3 sets.
Hip Flexor Stretch
Lunge forward while standing or lunge and kneel with the other leg on the ground. Then move the torso back a little and engage the core to stretch the hip flexors in the front of the thigh/pelvis area. Hold for 30 seconds, then release. Repeat 3-5 times per leg.
Lifestyle
These exercises can help, but if there is no progress around a month, contact a qualified chiropractor or physical therapist for further instruction and supervision. Also, if any neurological symptoms present like:
Sciatica
Shooting pain
Numbness
Tingling
Weakness
See a doctor as soon as possible.
Fixing posture-related problems require individuals to learn to be posture aware along with making some lifestyle adjustments. One way to do these exercises is to tack them onto a workout. Also, set reminders on a calendar to get up, stretch, and move around if sitting most of the day.
---
Body Composition Health
---
Difference between Processed sugar and Natural sugar
There are different types of sugar. There are natural sugars that are found in:
Fruits
Vegetables
Nuts
Whole grains
Beans
All sugar is broken down into glucose. However, foods that contain natural sugar are also rich in nutrients, including:
Vitamins
Minerals
Fiber
Protein
All which the body requires for optimal health.
Natural sugar does not lead to excess sugar intake; it happens with processed sugar. Processed sugar is extracted from sugarcane or sugar beet and is normally found as sucrose. This is present in cakes, cookies, cereal, and beverages. Processed sugar is also hidden in foods that are not sweet, like:
Microwave meals
Spaghetti sauce
Low-fat yogurt
Ketchup
Sports drinks
Foods that contain processed sugar are an energy source, but they contain little or no nutrients and can cause blood sugar levels to spike. In addition, consuming too much sugar is linked to an increased risk of:
Diabetes
Accelerated aging
Weight gain
Research has found that added sugar contributes to around 17% of the total calorie intake for adults. The recommended daily amount of calories from added sugar is 10%.
References
Azaïs-Braesco, Véronique et al. "A review of total & added sugar intakes and dietary sources in Europe." Nutrition journal vol. 16,1 6. 21 Jan. 2017, doi:10.1186/s12937-016-0225-2
Centers for Disease Control and Prevention (CDC). (May 2020) "Acute Low Back Pain" www.cdc.gov/acute-pain/low-back-pain/index.html
National Institute of Neurological Disorders and Stroke. (March 2020) "Low Back Pain Fact Sheet" www.ninds.nih.gov/Disorders/Patient-Caregiver-Education/Fact-Sheets/Low-Back-Pain-Fact-Sheet
Orlando Health. (2019) "Bad Posture Often to Blame for Chronic Pain and Health Issues, But Survey Finds Too Few Americans Are Concerned" www.orlandohealth.com/content-hub/bad-posture-often-to-blame-for-chronic-pain-and-health-issues