Forearm pain refers to soreness, aches, or discomfort between the wrist and the elbow. An injury or inflammation can affect any tissues, including muscles, bones, blood vessels, tendons, and the skin. The causes usually include overuse injuries, pinched nerves, accidents causing trauma, lifting or heaving heavy objects, sports injuries, and fractures. If left untreated, issues like chronic muscle pain and decreased and disrupted blood/nerve circulation can develop, leading to numbness and weakness. Chiropractic treatment can release tension, massage, reset, and stretch the muscles to expedite healing.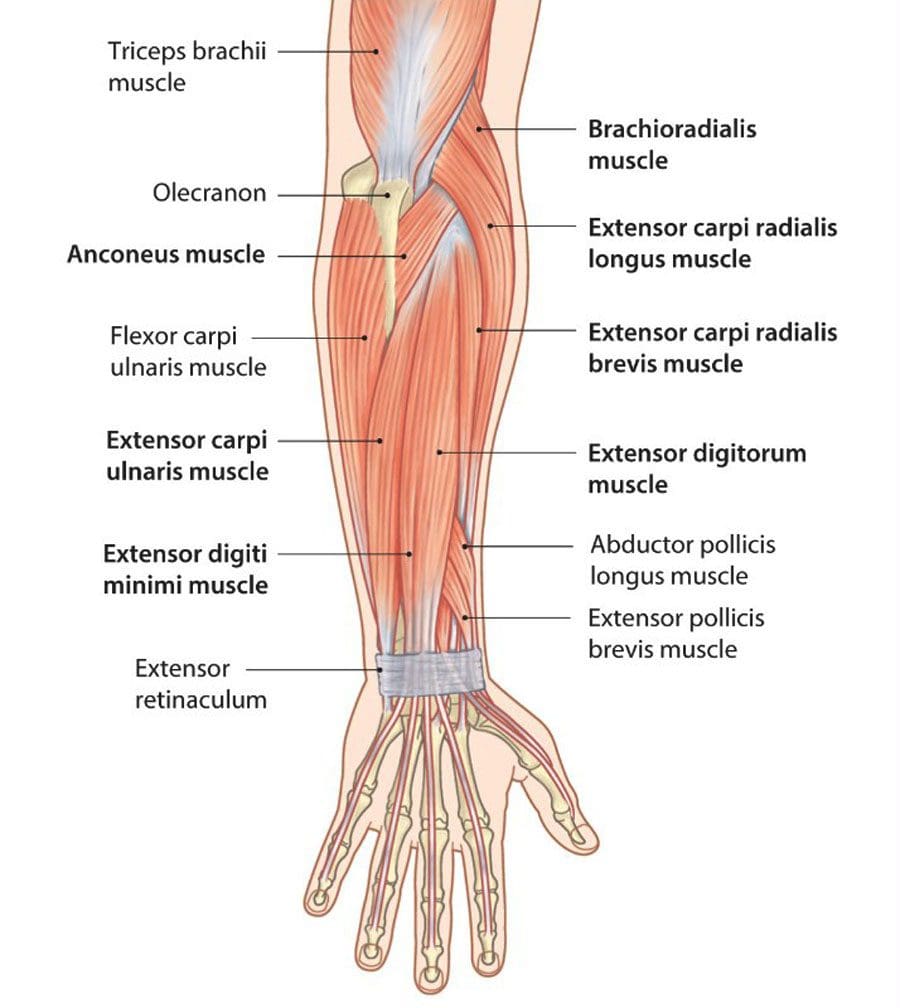 Anatomy
The forearm comprises the radius and ulna, which extend the forearm's length and cross at the wrist.
The Radius
This bone starts at the elbow and connects to the wrist on the thumb side.
Ulna
This bone begins at the elbow and connects to the wrist on the side of the little finger.
Muscles
Several muscles operate to rotate the forearm up/supination and down/pronation and flex and extend the fingers.
Causes
Forearm pain can happen to anyone and is usually related to traumatic or repetitive use injury. In other cases, pain may be associated with a benign growth, like a cyst or possibly a malignant tumor. Common causes include:
Pulled and/or strained muscles
Muscle ruptures or small tears
A direct blow, fall, or any extreme twisting, bending or jamming action.
Tendonitis from tennis or golfers elbow.
Tennis elbow is caused by inflammation or tiny tears in the forearm muscles and tendons outside the elbow.
Golfers' elbow is on the inside of the elbow.
Carpal Tunnel Syndrome is a repetitive stress disorder that affects the nerves and tendons of the wrist and forearm.
Musculoskeletal Causes
The musculoskeletal causes involve issues in how the forearm components operate together.
Repetitive actions like lifting, gripping, and typing can compress nerves and blood vessels throughout the forearm.
Repetitive positional injury can lead to swelling.
Forearm problems like dislocations or sprains can also lead to chronic inflammation and pain.
Traumatic Causes
Traumatic causes include those that result in injury to components of the forearm.
Anything that causes a direct injury to the forearm, including an automobile crash or accident, fall, or a direct hit, can fracture bones in the forearm.
A sprain can twist or stretch a ligament or tendon.
Activities that cause bending, twisting, quick sudden movement or direct impact can result in sprained multiple ligaments in the forearm.
Chiropractic Treatment
Healing forearm pain depends on the type of injury, location, and cause of the pain. Chiropractic addresses arm pain, tingling, and numbness in ways often overlooked by general physicians.
A chiropractor will perform a physical examination to determine if there are any underlying causes.
They may apply an ice pack to help control inflammation before the massage.
The chiropractor will perform gentle adjustments to the wrist, arm, and shoulder.
They may recommend a forearm brace to help retrain positioning and movement.
They will recommend exercises and stretches to strengthen and maintain the adjustments.
---
Carpal Tunnel Pain Treatment
---
References
Ellenbecker, Todd S et al. "Current concepts in examination and treatment of elbow tendon injury." Sports health vol. 5,2 (2013): 186-94. doi:10.1177/1941738112464761
Shamsoddini, Alireza, and Mohammad Taghi Hollisaz. "Effects of taping on pain, grip strength and wrist extension force in patients with tennis elbow." Trauma monthly vol. 18,2 (2013): 71-4. doi:10.5812/traumamon.12450
Suito, Motomu, et al. "Intertendinous epidermoid cyst of the forearm." Case reports in plastic surgery & hand surgery vol. 6,1 25-28. 28 Jan. 2019, doi:10.1080/23320885.2018.1564314