Delayed Onset Muscle Soreness – DOMS is when muscle pain or stiffness develops a day or two after playing sports, weight lifting, exercise, or work that involves concentrated physical activity like lifting and carrying objects. DOMS is considered a normal response to extended exertion and is part of the adaptation process that the recovering muscles experience as they undergo hypertrophy or an increase in muscle size. It is common in individuals who have just started exercising, increased the duration or intensity of their workouts, or just beginning a physically demanding job.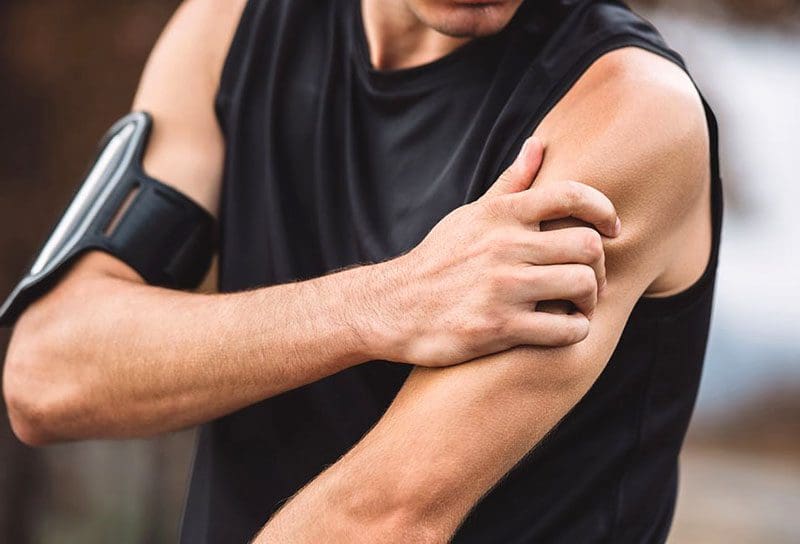 DOMS
When muscle contracts as it lengthens is known as eccentric muscle contractions, which is most associated with DOMS. It is related to increased stress in muscle fibers as they are exerted excessively. This also happens when engaging in movements the muscles are not used to, like a new exercise or helping a friend move heavy boxes, furniture, etc. Examples include:
New exercise or unusual physical task.
Descending stairs.
Lifting/Lowering weights or heavy objects.
Running downhill.
Symptoms
Individuals will not feel DOMS during the workout or physical activity. Delayed symptoms include:
Swelling in the affected muscles.
Muscles feel tender to the touch.
Muscle fatigue.
Reduced range of motion and movement.
Pain and stiffness when moving.
Decreased muscle strength.
Treatment Options
Time and waiting for the muscles to repair themselves is the natural healing process, but steps can be taken to ease the soreness, stiffness, and pain. This includes:
It is different for everybody; personal experience will determine which works best for the individual.
Active Recovery
Active recovery is a technique that uses low-impact aerobic exercise right after a workout to increase blood flow to the muscles.
The increased blood supply can help relieve the inflammation.
RICE
This technique is used for acute injuries but can be applied to delayed onset muscle soreness. It stands for:
Rest
Ice
Compression
Elevation
Chiropractic
A chiropractic massage is for healing sore muscles, tendons, ligaments after an intense game, workout, etc. Chiropractic increases the blood and nerve circulation around the muscles delivering added oxygen and nutrients. This type of massage helps loosen the muscles/connecting tissues allowing the body to recover and heal quicker.
---
Body Composition
---
When Muscles Are Not Rested
Not taking time to recover because of overtraining/working can have consequences on the body. Inflammation that is not given the time to heal can lead to:
Injuries.
Weakened immune system.
Muscle mass loss.
Mental health issues.
The body's immune system cannot function at total capacity during intense physical stress. This causes difficulty when trying to fight off germs and viruses. Studies have found preventing inflammation and injury requires prioritizing rest. Constantly being on the go and under intense physical stress can take a toll not only on the body but the brain as well. This can lead to irritability, frustration, anger, which leads to other health problems generating a vicious cycle.
References
Cheung, Karoline et al. "Delayed onset muscle soreness: treatment strategies and performance factors." Sports medicine (Auckland, N.Z.) vol. 33,2 (2003): 145-64. doi:10.2165/00007256-200333020-00005
Guo, Jianmin et al. "Massage Alleviates Delayed Onset Muscle Soreness after Strenuous Exercise: A Systematic Review and Meta-Analysis." Frontiers in physiology vol. 8 747. 27 Sep. 2017, doi:10.3389/fphys.2017.00747
Reinke, Simon et al. "The influence of recovery and training phases on body composition, peripheral vascular function and immune system of professional soccer players." PloS one vol. 4,3 (2009): e4910. doi:10.1371/journal.pone.0004910