At home or a gym, working out with cardio exercise equipment can be a highly beneficial treatment for back discomfort, soreness, and pain. However, when checking out all the cardio machines it is recommended to use those that will help with back pain and not worsen or cause further injury. The same goes for purchasing cardio equipment to use at home. Research has found that exercise training could be highly effective in the treatment of back pain. A study on pain found that the endorphins generated from aerobic exercise help to lessen low back pain. The North American Spine Society announced evidence-based recommendations for the treatment of back pain, and one of the top recommendations was aerobic exercise. Individuals can always go outside to:
But mixing it up with cardio equipment can have its own benefits for different reasons. It could be too hot, raining, sometimes individuals prefer a set workout program to reach calorie or distance goals, and it could be easier on the spine. Working out at home or at a gym, cardiovascular machines can help bring relief for back pain.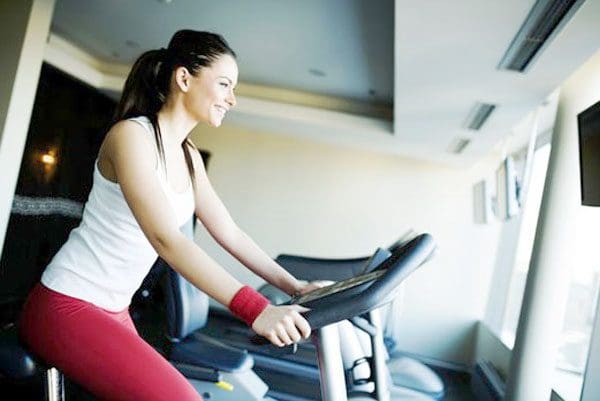 Cardiovascular Exercise Back Pain Treatment
Cardiovascular exercise is highly recommended for everyone. For individuals dealing with back pain, exercise combined with conservative therapy is usually part of a treatment plan. This  includes:
Physical therapy
Chiropractic care
Health coaching
Diet
Aerobic exercise regimen
With an exercise program, experts recommend starting with moderate-intensity aerobic exercise. Moderate intensity workouts are meant to get an individual's heart and blood pumping, sweating a little, and slightly deep breathing. These types of exercise include:
Power walking outside
Power walking on a treadmill
Stationary biking
As long as the physical activity gets the heart rate up, these exercises have been shown to decrease back pain, relieve stress, and elevate mood. 20 minutes of moderate-intensity exercise three to five times a week for six weeks is what is recommended. This will help the back become healthier, feel better, and is recommended by the American Heart Association.
Exercise Not For All Spine Conditions
However, not all spinal conditions benefit from regular exercising. Getting an evaluation from a doctor, spine specialist, or chiropractor is recommended for injuries, severe and/or persistent back pain before starting a cardiovascular exercise program. This could be a spinal fracture, or spinal condition that requires bracing, or intense physical therapy/rehabilitation. Individuals that do not exercise regularly or have a medical or heart condition/s definitely need to get a doctor's clearance before beginning a cardiovascular workout regimen.
Top Cardiovascular Exercises and Equipment
Once a doctor clears the individual for aerobic exercise there is no cardio equipment that is off-limits. Elliptical machines and stationary bikes are the most well-tolerated by individuals with back problems/conditions. Because they are low impact. However, if it is tolerable using a jogging treadmill is beneficial as well. Listen to the body. If a workout on a treadmill causes back pain that is not just workout soreness,  stop with that machine and try different cardiovascular equipment that is more low impact. Do not ignore back pain. If pain is continuous and exercising is not helping, stop and see a doctor, or chiropractor to evaluate and analyze the situation. Then they can adjust the exercise part of the treatment plan according to the presenting symptoms.
---
Body Composition
---
Concurrent Training
Concurrent training is the combination of aerobic and resistance exercises during the same workout session. Aerobic and resistance exercise impacts the body in different ways. The type of aerobic training determines how it interacts with resistance exercise. The order of the types of exercises like aerobic and resistance workouts can make a difference. Having an understanding of a few specifics about concurrent training will help to make decisions about an exercise program.
Aerobic/interval and resistance training does not seem to interfere with the others' adaptations

However, gaining strength could be lowered by adding running to a resistance program

Whereas bicycling does not have the same effect.
Cycling and the ergonomics that go with it are similar to traditional lower-body resistance exercises. The muscle contractions that come with running result in muscle damage, while the contractions in cycling also cause muscle damage, it is not to the same extent. Pairing the exercise programs correctly is key, such as a running program in combination with an upper-body lifting exercise can be beneficial. While running and doing leg presses every day could interfere with each other and could cause injuries. Or if doing both aerobic and resistance exercises in the same session, or on the same day, consider the order of the exercises, depending on what the goal is.
Disclaimer
The information herein is not intended to replace a one-on-one relationship with a qualified health care professional, licensed physician, and is not medical advice. We encourage you to make your own health care decisions based on your research and partnership with a qualified health care professional. Our information scope is limited to chiropractic, musculoskeletal, physical medicines, wellness, sensitive health issues, functional medicine articles, topics, and discussions. We provide and present clinical collaboration with specialists from a wide array of disciplines. Each specialist is governed by their professional scope of practice and their jurisdiction of licensure. We use functional health & wellness protocols to treat and support care for the musculoskeletal system's injuries or disorders. Our videos, posts, topics, subjects, and insights cover clinical matters, issues, and topics that relate to and support, directly or indirectly, our clinical scope of practice.* Our office has made a reasonable attempt to provide supportive citations and has identified the relevant research study or studies supporting our posts. We provide copies of supporting research studies available to regulatory boards and the public upon request. We understand that we cover matters that require an additional explanation of how it may assist in a particular care plan or treatment protocol; therefore, to further discuss the subject matter above, please feel free to ask Dr. Alex Jimenez or contact us at 915-850-0900.
Dr. Alex Jimenez DC, MSACP, CCST, IFMCP*, CIFM*, CTG*
email: coach@elpasofunctionalmedicine.com
phone: 915-850-0900
Licensed in Texas & New Mexico
References
British Journal of Sports Medicine. (November 2020) "Which specific modes of exercise training are most effective for treating low back pain? Network meta-analysis" https://bjsm.bmj.com/content/54/21/1279
Pain. (December 2020) "Are endogenous opioid mechanisms involved in the effects of aerobic exercise training on chronic low back pain? A randomized controlled trial" https://journals.lww.com/pain/Citation/2020/12000/Are_endogenous_opioid_mechanisms_involved_in_the.23.aspx
North American Spine Society. (2020) "Evidence-Based Clinical Guidelines for Multidisciplinary Spine Care" https://www.spine.org/Portals/0/assets/downloads/ResearchClinicalCare/Guidelines/LowBackPain.pdf