Neuroregeneration could become an option for spinal cord injury treatments in the future. A spinal cord injury or SCI is when there is damage to the bundle of nerves and cells that send and receive signals from the brain and body. A spinal cord injury can be caused by direct trauma/injury to the cord or damage to the tissue and vertebrae. The damage can result in temporary or permanent changes in:
Sensation
Movement
Strength
Body function/s below the injury site.
There are incomplete and complete injuries. Injuries that cause limited or no cell death can achieve a full recovery. Injuries that are more serious and/or are higher on the spinal cord can cause permanent damage and/or paralysis. Automobile crashes, accidents, and serious falls are the most common causes of spinal cord injuries.
An incomplete injury means the cord can still transmit messages, but there is interference/disturbance.
A complete injury means communication and motor function/voluntary body movement is not transmitting.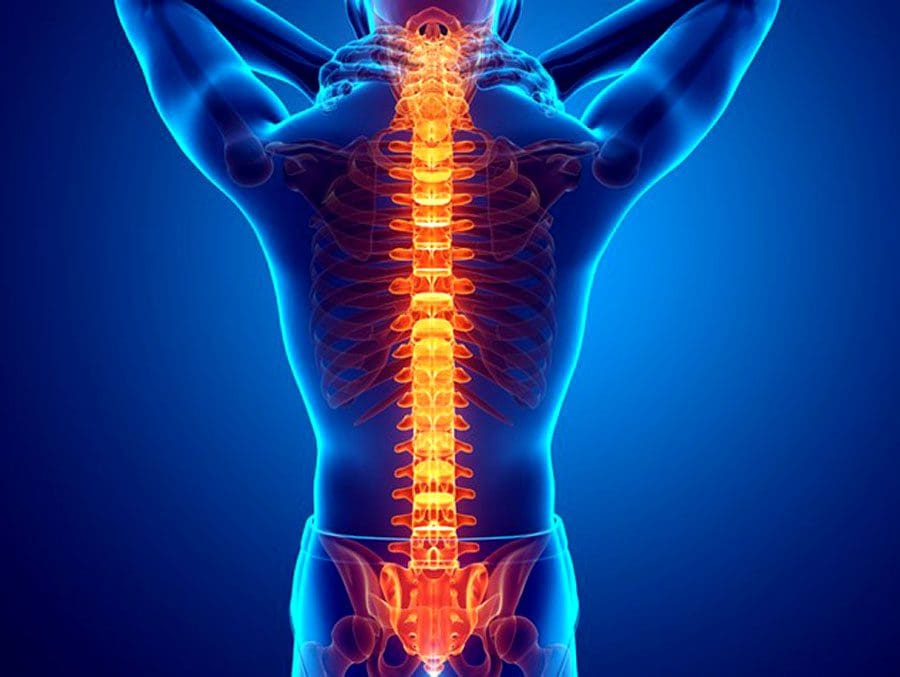 Symptoms
Symptoms of a spinal cord injury include:
Unnatural or awkward positioning of the spine or head.
Pain or pressure in the head, neck, or back.
Numbness
Tingling
Loss of or changes in sensation in the hands and feet.
Problems with walking.
Weakness or inability to move parts of the body.
Loss of movement.
Paralysis can occur immediately or develop over time as swelling and bleeding affect the cord.
Loss of bladder and bowel control.
Changes in sexual function.
Difficulty breathing.
SCI Damage Control
A spinal cord injury affects the central nervous system, the body's central headquarters. Damage can cause complications through what's called the secondary injury cascade, which is a series of chemical reactions the body activates to help the situation. However, if the chemical response does not stop and stays active, it can worsen the injury. The body recognizes that an emergency has occurred and tries to go into a shut-down mode that kills off some of the cells in the central nervous system. When a spinal injury happens, treatment focuses on stopping the damage as quickly as possible to stop the injury cascade and prevent as much cell death as possible. This act is called neuropreservation, meaning that the team is trying to preserve and save as many nerve cells as possible.
Injury Neuroregeneration Treatment Studies
While current treatment primarily focuses on stopping as much damage as possible then going through physical therapies to maintain spinal alignment and rehabilitate the body, the future of injury treatment is looking towards regrowing and repairing the damaged nerve cells through a process known as neuroregeneration. Repairing nerves that have been damaged could change life for many. Neuroregeneration Treatments being studied include:
Surgery
A study in The Lancet Neurology presents how getting surgery as soon as possible after an injury can provide significant benefits.
The findings could change all of the guidelines for spinal cord injury.
Medication
A study on Riluzole, a medication that has shown promise to slow down nerve cell damage.
A team completed a randomized controlled trial for the medication; soon, the final results will be available.
Antibody treatment
Antibodies are being studied in two ways.
To stop nerve cells from being damaged.
To help damaged nerve cells regenerate.
Stem cells
Scientists are studying ways to grow new nerve cells from an individual's stem cells without the need for embryonic stem cells.
Specialized stem cells could also be used to help other nerve cells regenerate.
Electrical stimulation
Another approach is using electrical stimulation to restore function in the spinal cord.
Therapy that could help a paralyzed individual walk again.
The Future of Neuroregeneration
Aside from early surgery intervention, most neuroregenerative treatments are not ready or accessible yet. There's still much more research before it can become a mainstream treatment option. Treatment that involves regenerating nerve cells will take longer than a treatment designed to protect nerve cells. However, more clinical trials are expected to be done in the next few years, with stem cell therapies taking the longest. Some of these therapies could be ready to be used on actual patients in 5-10 years.
---
Body Composition
---
The Importance of Measuring Body Composition
Most diet and fitness programs focus on weight loss or gain. However, they tend to overlook that individuals have completely different body compositions. Body composition describes the amount of:
Fat
Bone
Water
Muscle
In the body.
Measuring body composition can tell a body's unique makeup and help identify areas to work on to improve overall health and wellness. Body composition analysis provides a snapshot of an individual's health/fitness levels to help achieve health goals from the inside out.
References
Aguilar, Juan et al. "Spinal cord injury immediately changes the state of the brain." The Journal of neuroscience: the Official Journal of the Society for Neuroscience vol. 30,22 (2010): 7528-37. doi:10.1523/JNEUROSCI.0379-10.2010
Badhiwala, Jetan H; Wilson, Jefferson R; Witiw, Christopher D; et al. (February 2021). The Lancet Neurology Vol. 20, No. 2, P. 117. The Influence of Timing of Surgical Decompression for Acute Spinal Cord Injury: A Pooled Analysis of Individual Patient Data. DOI: 10.1016/S1474-4422(20)30406-3
Chari, Aswin et al. "Surgical Neurostimulation for Spinal Cord Injury." Brain sciences vol. 7,2 18. 10 Feb. 2017, doi:10.3390/brainsci7020018